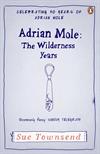 Adrian Mole: The Wilderness Years
Registered by

Delphi_Reader

of
Δελφοί - Delphi
,
Fokida
Greece on 11/26/2017
3 journalers for this copy...

Journal Entry
1
by

Delphi_Reader

from
Δελφοί - Delphi
,
Fokida
Greece on Sunday, November 26, 2017

This book starts its journey with BookCrossing from Delphi, Greece
____________________________________________________________________
"Celebrate Adrian Mole's 50th Birthday with this new edition of the fourth book in his diaries, where we catch up with a hapless Adrian and his desperate attempts to win back the love of his life.
< Thursday January 3rd
I have the most terrible problems with my sex life. It all boils down to the fact that I have no sex life. At least not with another person.>
Finally given the heave-ho by Pandora, Adrian Mole finds himself in the unenviable situation of living with the love-of-his-life as she goes about shacking up with other men. Worse, as he slides down the employment ladder, from deskbound civil servant in Oxford to part-time washer-upper in Soho, he finds that critical reception for his epic novel, Lo! The Flat Hills of My Homeland, is not quite as he might have hoped.
But Adrian is about to discover that extraordinary and wonderful things may blossom even in the wilderness . . ."
~~~~~~To the person who found this book:~~~~~~
Welcome to BookCrossing.com, where we are trying to make the whole world a library!
If you have not already done so, please make a journal entry so we know this book has found a new home. Drop a few lines on where and how you found this book and what you thought of it. You don't need to join BookCrossing and you can remain completely anonymous. However, I encourage you to join so that you can follow this book's future travels. It's fun and free, and your personal information will never be shared or sold.
This book is now yours, and you can keep it if you choose, although I would love you to read and then share it. You can pass it on someone you know or release it once again in the wild, leaving it on a park bench, a phone booth, a hostel lobby...wherever you think it's suitable for the book to continue it's journey. If you pass it along, please make a release note to let others know where you left it.
I hope you enjoy the book!
---

Journal Entry
2
by

Delphi_Reader

at
Δελφοί - Delphi, Fokida Greece on Sunday, November 26, 2017

I've read other Adrian Mole books and I agree with most people who find this one of the weaker in the series. Mainly I don't think it's that much different from the previous or the next books, it's an okey-ish read but not great.
I think Sue Townsend is a very British author, so her books appeal more to the Brit crowd than the international readers. And as a non-Brit I found this book amusing at times, but not as hilarious as presented around. It had its fun moments, but on my opinion it was often somehow dull and depressing.
I guess one knows what to expect when choosing one of the Adrian Mole books though, so I can't complain...
Fine to kill a few hours.
PS: This is a celebratory edition which contains a small interview with the author and a CV of Adrian Mole. Be aware those contain spoilers if you haven't read the next books.
It's also shorter than it appears as the last pages do not contain only the interview mentioned, but a couple of chapters of an other Townsend's novel, "The Woman who Went to Bed for a Year" too.
Now, let's see where the book will travel next...
---

Journal Entry
3
by

Delphi_Reader

at
First Sentences VBB, A Bookbox -- Controlled Releases on Sunday, October 07, 2018
Released 8 mos ago (10/8/2018 UTC) at First Sentences VBB, A Bookbox -- Controlled Releases
CONTROLLED RELEASE NOTES:

Adrian Mole got itchy feet and is now traveling to Sweden through the First Sentences Virtual BookBox-Round 15! And then...who knows?
Good Luck and Don't forget to write home from time to time : )
Enjoy lilith89!
First Sentence: "I start the year with a throbbing head and shaking limbs, owing to the excessive amounts of alcohol I was forced to drink at my mother's party last night. "
---
Got this book as a First Sentence Book Box. I have not heard of the books, but my husband has, and I think he might want to read it after I finish it. It sounds funny, and I need a wee bit more fun in my life. And if it is not, I will write a fun letter of complaint to Sunday Telegraph who called it so on the front page.
Thank you so much! I will enjoy :)
---
Journal Entry
5
by
lilith89
at
Haus der Jugend - BC Convention 2019 in Mainz, Rheinland-Pfalz Germany on Monday, April 08, 2019
Released 1 mo ago (4/25/2019 UTC) at Haus der Jugend - BC Convention 2019 in Mainz, Rheinland-Pfalz Germany
WILD RELEASE NOTES:
Brought with us from Gothenburg, Sweden to the Bookcrossing convention.
---
This book has been on my wishlist for more than 12 years! So when I had first dibs on the box you sent over for the convention I grabbed it. Thank you.
---