The Ear, the Eye, and the Arm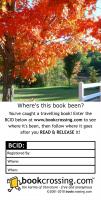 Registered by

GoryDetails

of
Nashua
,
New Hampshire
USA on 2/12/2018

This Book is Currently in the Wild!
1 journaler for this copy...

Journal Entry
1
by

GoryDetails

from
Nashua
,
New Hampshire
USA on Monday, February 12, 2018

I found this good-condition softcover in
this Little Free Library in Bedford MA
while dropping off some books of my own, and nabbed it for another release copy.
The premise: in a far-future Zimbabwe, three detectives with mutant powers are summoned to try and find three missing children. But this is a more nuanced story than I'd expected from the basic plot summary; among other things, those three detectives, despite providing the title of the book (and appearing on the cover), are far from the central characters. It's the children who are the central characters through most of the story, with the detectives getting into trouble more often than they manage to be helpful - at least in the early part of the story. By the end of the book the detectives do have some significant parts to play, but they're always at the mercy of their abilities; super-sighted Eye tends to faint when he has to go up high, as his keen sight compounds his acrophobia; keen-hearing Ear is horribly sensitive to loud noises, so any time there's gunfire or even a loud scream from a frightened bystander he may wind up in a dead faint. And while the others can guard against these risks with goggles and ear-protectors, Arm, whose main ability is psychic sensitivity, can't protect himself at all; if faced with large numbers of people, or of anyone who's angry or upset, or of his own partners in the grip of their particular weaknesses, he feels it too... It's surprising that the poor guys can function at all, never mind get into the situations they wind up in!
Anyway: I enjoyed the setup here, with lots of little details that sketch this new, 22nd-century world and its ups and downs. Wealthy General Matsika loves his wife and children, and has tried to protect the children from the perils of the city (which he's brought into some semblance of order through some rather strict measures - he's feared, not loved, by the populace) by having them schooled at home and never letting them out of the compound. They do learn many things, mostly via the "Mellower", a rather vague young man whose job is a combination of tutor, playmate, psychotherapist, and morale-booster - "Praise Singer" is one of his job-descriptions. He's actually able to plant post-hypnotic suggestions in the family as he praises them, leaving them feeling relaxed and happy. Is he a sinister character? I wondered, while hoping that he wasn't; he seemed too nice a guy to be a villain, even though his powers were clearly being used a bit too heavy-handedly. But he's on the children's side when they want to go adventuring through the city, and helps to get them access to the outside - which promptly goes pear-shaped when they're kidnapped and taken off to Dead Man's Vlei, a former toxic-waste dump that's now home and empire to otherwise-unwanted folk.
The oldest child is Tendai, almost 15, and restless under all his father's restrictions. He loves studying about his ancestors in pre-colonial days, and wonders how he'd fare out hunting lions in the wild. His sister Rita is quite bright, but doesn't cope well with being kidnapped. (At one point Tendai muses that she's a
shooper
er, someone who "always said the one thing guaranteed to tip a friendly discussion into a quarrel".) Youngest child Kuda... well, for him, it's scary at first, but he seems better able to adjust to all sorts of situations.
The children get to see a lot more of their city than they'd intended, from the dark and gritty underside ruled by the She-Elephant (turns out that "She-Elephant" is a very noble title indeed; I learned a lot from this book) to the marvelous Resthaven, a protected region in which the inhabitants live as their ancestors did long before the Europeans invaded. (Tendai loves this at first, as his abilities and knowledge make him accepted as a budding warrior - but he soon finds out that the old traditions weren't nearly as kind to women and girls. Rita has a rough time in this leg of their journey.)
All the while the kids are escaping, finding refuge, and escaping again, the Ear, the Eye and the Arm are on their trail - as is the She-Elephant and her minions, and eventually an even nastier group. The Mellower (whose name we do eventually learn, not that he ever goes by it) turns up again, and the General and his wife are keenly involved in the search - so it all seems like a very busy story indeed. It flows well, though, with the focus on Tendai's coming-of-age as he learns to pick the best elements of the past, present, and future, and finds his own power and that of his ancestors. With a little help from his new friends!
The climax of the story is quite thrilling and scary, with some truly wonderful cavalry-to-the-rescue bits. And when the three detectives finally hit their stride they do pull off some impressive deeds, though, again, the title suggests a bigger role than they actually have in the story.
Overall I really enjoyed this tale, and liked the main characters very much. Their interactions, mistakes, and achievements were all fun to read about, as were the cultural tidbits about the history of the region and its people. [Check out the glossary at the end, which includes terms from the book, whether from Shona, Afrikaans, Zulu, or other origin.] Nice job of world-building, and a dandy tale. I'd *love* to see a film of this, in the right hands!
[There's a
TV Tropes page
for the book.]
---

Journal Entry
2
by

GoryDetails

at
Little Free Library, Prospect Hill Rd in Lexington, Massachusetts USA on Monday, February 12, 2018
Released 3 yrs ago (2/13/2018 UTC) at Little Free Library, Prospect Hill Rd in Lexington, Massachusetts USA
WILD RELEASE NOTES:

I left this book in the Little Free Library; hope someone enjoys it!
[See other recent releases in MA
here
.]
*** Released for the
2018 Head, Shoulders, Knees and Toes
release challenge. ***
---