Cinnamon and Gunpowder: A Novel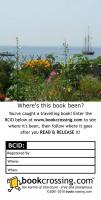 Registered by

GoryDetails

of
Nashua
,
New Hampshire
USA on 1/15/2018
2 journalers for this copy...

Journal Entry
1
by

GoryDetails

from
Nashua
,
New Hampshire
USA on Monday, January 15, 2018

I found this ex-library hardcover in this
Little Free Library in Groton, MA
while dropping off some books of my own, and was pleased to have another release copy.
The pirate-and-captive plot is pretty common - but in this case the pirate's a woman and the captive a man, and it's the man's cooking that saves his life and gets him added (however reluctantly) to the crew...
I enjoyed the book very much, a lively mix of adventure, stark terror, cruelty, humor, and some surprisingly tasty food! Owen Wedgewood, chef to Lord Ramsey, is a widower who still misses his beloved wife, and devotes his time to producing fabulous meals for his employer. But one night Ramsey's home is invaded by pirates, and Owen sees his master shot dead by the red-haired woman who leads them: Mad Hannah Mabbot. He tries to flee but winds up captive on Mabbot's ship, with the offer that he'll be permitted to live if he produces special meals for the Captain every Sunday.
Our hero admits he's no fighter, and he desperately wants to live, but while he agrees - reluctantly - to the terms, he also determines to try and find a way to escape. We get to see how the motley crew looks to his eyes, with scenes of horrific torture (the "theater paint" punishment was simply appalling) mingled with evidence of the crew's various skills and their loyalty to their leader.
Owen does make escape attempts, with varying degrees of success - and suffering. He also manages to produce the agreed-upon meals, though at first he has to scrounge through some really awful-sounding ship's stores for anything he can use. Sifting the weevils out of the flour, attempting to make some bread-starter using musty raisins for the yeast (and wearing the resulting sponge in a container at his waist so his body-heat will keep it growing), using a cannonball as a makeshift rolling pin and spice-grinder (he likes this so well he thinks he might keep one for future use - if he ever escapes)... The details of his culinary efforts are funny and intriguing, all the more so as compared to the ship's regular cook, who got the position because he blinded the previous cook (!).
It turns out that Mabbot is not a typical in-it-for-the-money pirate; she has some goals, including taking down the powerful Pendleton Trading Company (his late master was one of the leaders), tracking down the Brass Fox (another bold pirate with plans of his own), and either avoiding or killing the brilliant and deadly pirate-hunter Laroche. As her motives become more clear to Owen, he begins to re-think some of his own impressions of his late master and the trading company, as well as of his initial reactions to his captors. He learns more about the individuals, from young Joshua, a deaf-mute cabin boy who becomes his assistant (and who teaches him to sign, even as Owen teaches the boy to read) to the Captain herself. And he finds inner resources that he hadn't known were there - sometimes to his disadvantage, as with his persistence in trying to escape even when the odds are stacked against him. As he grows more used to his surroundings, he winds up making all sorts of bargains with members of the crew to acquire fresh seafood, interesting spices, anything he can use to improve his meals for the Captain - and, along with all this bartering, he gets to know his shipmates (and himself) better.
I really enjoyed this story - lively and funny, violent and suspenseful, with fascinating characters, interesting relationships, serious issues (slavery; the Opium Wars), and, yes, those delectable meals... [There's one recipe at the end of the book, for "Vanilla-Rose Amaretti"; Owen had to make do with rose petals sifted from some old potpourri!]
---

Journal Entry
2
by

GoryDetails

at
Nashua, New Hampshire USA on Thursday, May 17, 2018
---

Journal Entry
3
by
collectorkerri
at
Springfield, Illinois USA on Wednesday, May 23, 2018
Received this wishlist book today. Thanks, GoryDetails!
---