The End of Night: Searching for Natural Darkness in an Age of Artificial Light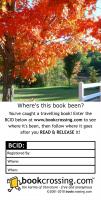 Registered by

GoryDetails

of
Nashua
,
New Hampshire
USA on 4/25/2018
3 journalers for this copy...

Journal Entry
1
by

GoryDetails

from
Nashua
,
New Hampshire
USA on Wednesday, April 25, 2018
I got this fair-condition ex-library hardcover from Better World Books. It's about the way artificial illumination has reduced the Earth's regions of complete darkness so much that it's increasingly difficult to find a spot on land that doesn't harbor some electrical glow on the horizon. The author focuses on the US and Europe, and visits locales such as Las Vegas - whose Luxor Beam is "the brightest single spot on this planet" - and Death Valley, where he gets as close to total darkness as is possible in the continental US (and which is still not entirely dark).
The book discusses public opinion and ecological concerns vs. practical advantages; clearly, some amount of nighttime lighting is a good thing, so that we can stay out later without bumping into things, but there are ways to design the lights and the spacing and timing such that we aren't blasting photons all over the place to no purpose.
He mentions safety concerns at one point, as in safety-from-violent-crime; he suggests that the criminals prefer to work where they can see what they're doing, so people who dread any dimming of street lights may be miscalculating the risks! (One photo demonstrates quite well the advantages of well-thought-out security lighting: a too-bright lamp casts a glow that can obscure the view of, say, a stranger lurking by the gate, while a better-designed choice can allow wider visibility. Think low-beam headlights vs. high-beam.)
I appreciate the chance to enjoy near-dark, myself, though where I live it's difficult. Still, my own backyard, shaded by trees from most of the surrounding houses and streetlights, can get dark enough on moonless nights to feel quite remote indeed. And I spent time on a friend's ranch in Wyoming in my youth, where walking out into the yard at night meant stepping back in time: I recall one night when I was terrified by a thundering noise whose origin I couldn't see or even accurately pinpoint, until several of the - very tame - ranch horses galloped by me, enjoying their evening gambols! And I do wonder if I've damaged my own night vision by spending most of my after-dark time in well-lit spaces, staring at screens of one kind or another...
Among the author's other dark-seeking visits was to Cape Cod, to the site of Henry Beston's long-vanished beach house from which he wrote
The Outermost House
(a favorite book of mine). While the area isn't as remote - or as dark - as it was in Beston's day, the author appreciates the spot, even though he has to turn his back on the huge glow that is Boston...
There are discussions of darkness as it relates to sleep habits, light-pollution as it affects wildlife, and more.
---

Journal Entry
2
by

GoryDetails

at
Nashua, New Hampshire USA on Saturday, May 26, 2018
---

This book made a short stop in Colorado before continuing on in the Biography of Things bookbox (still traveling in honor of
maryzee
but yet another that sounds interesting. I think I will at least add this one to my wishlist and like elizardbreath with the Bicycle, maybe it will find its way back to me :-)
---

Claimed from MaryZee's
Biographies of Things
box with thanks!
Sounds very interesting. Reading the jacket blurb made me think of "I am not a stranger to the dark" and my
favorite version
of "This is Me" from "The Greatest Showman".
---


Still TBR, but promised as a
wishlist tag
so I'd better get to it soon!
Update October 15: still reading but I'm getting there; I'm currently starting chapter two. (This book's chapters count DOWN.)
---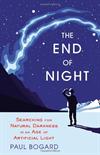 Fascinating. Does what I believe good non-fiction should do: makes you want to know more. I checked out cover artist
Tyler Nordgren's
artwork and am intrigued by the idea of visiting a Dark Sky site, someday.
Either Bogard or his fact-checker slipped up a couple of times: the memorable science fiction short story "Nightfall" is by Isaac A
s
imov, and the long-time host of public radio's "Music Through the Night" was
Arthur Hoehn
, who kept me company during many a long night while I was in high school.
---

Saturday, October 19, 2019: off to Colorado!
USPS tracking
9549 0104 3304 9292 6490 47
ETA 11/7/19
Released for Secretariat's
2019 NJABBIC challenge
(week 42: figures turned away from the reader), AlterEgoZoe's
Spook-tacular challenge
, and DragonGoddess's
Tick Tock challenge
.
~ ~ ~ ~ ~
I'm so glad you've found this book! Won't you make a journal entry so the previous readers know that it's safe with you?
How and where did you find the book? What did you think of it? What are you going to do with it next?
This is now your book, for you to do with as you please: keep it as long as you wish, pass it to a friend, or maybe even leave it where someone else can find it!
If you've ever wondered where your books go after they leave your hands, join BookCrossing and you may find out: you'll be able to follow your books as new readers make journal entries - sometimes from surprisingly far-flung locations.
BookCrossing: making the whole world a library!
---

This book arrived while we were on vacation, and then I procrastinated getting it journaled. Sigh. Thank you hyphen8 for having this book come back to me (I first journaled it July 2018, and wanted it, but wanted all the things, so...it went back into maryzee's commemorative box). It wasn't so long ago that I went to the
Dark Skies observatory in Colorado
and it makes me happy there are places trying to limit the light pollution.
---