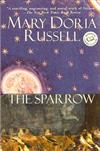 The Sparrow: A Novel (Ballantine Reader's Circle)
Registered by

6of8

of
Silver Spring
,
Maryland
USA on 11/13/2017

This Book is Currently in the Wild!
3 journalers for this copy...

Journal Entry
1
by

6of8

from
Silver Spring
,
Maryland
USA on Monday, November 13, 2017
A book that I recently acquired for the purposes of giving it away.

This is one of the best books I have ever read. I picked up a copy to share with someone else.
---

Journal Entry
2
by

6of8

at
-- Mail or by hand-rings, RABCK, meetings, etc, Virginia USA on Saturday, December 09, 2017
Released 11 mos ago (12/10/2017 UTC) at -- Mail or by hand-rings, RABCK, meetings, etc, Virginia USA
CONTROLLED RELEASE NOTES:
This book is on the wishlist of a local BookCrosser, so I will pass it along at the holiday party.

Any future reader or recipient of this book is encouraged to leave a journal entry here on the BookCrossing site to let prior readers know the fate of the book. You can make an anonymous entry without joining the BookCrossing movement, but if you are interested in joining, it is a free and spam-free community where your contact information is not shared with others. Best of all, members receive private messages via e-mail from books like this one when those books are journaled, allowing for long-term relationships between books and readers.

---

A Wishlist book given to me at the BCinDC Christmas Party.
Thank you, 6of8!
---

Journal Entry
4
by

Spatial

at
Wish list tag, -- By post or by hand/ in person -- USA on Wednesday, December 27, 2017
Released 10 mos ago (12/27/2017 UTC) at Wish list tag, -- By post or by hand/ in person -- USA
CONTROLLED RELEASE NOTES:
I received 2 copies of this book, somehow lol, at the BCinDC Christmas party. The other book was from SqueakyChu. I'm not 100% sure that this is the copy that's in the box! Oops! But I will Double-check after the New Year... I'm pretty sure this is correct.

Anyway, I am sending this one on to ghir, courtesy of the Wishlist Tag game!

Hope you enjoy!
---

Arrived safely in the mail today. Thank you, Spatial and 6of8, for sharing.

I put this on my wishlist after hearing it named as "a non-horror book you found scary." And it is terrifying. In the near future, Father Emilio Sandoz returns to Earth, the only survivor of a mission sent to space to make contact with aliens detected through musical radio transmissions. We know he is physically and emotionally scarred from the experience, but the investigation by the church to learn what happened to him and his now-dead colleagues is a drawn out ordeal. The suspense is maddening, and at times the story drags. Yes, we get it as we are told for the umpteenth time that Sandoz sometimes acts in atypical ways for a priest, swearing and fighting. And Sandoz's reluctance to disclose what happened already does not ring true now that current society has moved into such oversharing and self-promotion. As a sci-fi tale, it is captivating, as the humans attempt to understand alien beings and make errors based on preconceived notions we don't even know we have. This story challenges you even further to consider the alien nature of understanding or having faith in God, where we also would certainly have limitations and false expectations beyond our awareness.

This will stick with me as a truly horrifying premise, like The Handmaid's Tale. For some reason, Emilio Sandoz makes me think of Sherman Alexie (the long-haired version in older photos). And the whole thing reminds me of Attack of the Mushroom People!
---

Available or to be released.
---

Journal Entry
7
by

ghir

at
Hawaii Book & Music Festival in Honolulu, Hawaii USA on Saturday, May 05, 2018
Released 6 mos ago (5/5/2018 UTC) at Hawaii Book & Music Festival in Honolulu, Hawaii USA
WILD RELEASE NOTES:

This book is registered at BookCrossing.com to track its journey through this world. You can make a journal entry (anonymously, if you like) to say you found it, then read it and/or pass it on for someone else to enjoy. Thank you!
---