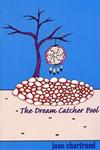 The Dream Catcher Pool
2 journalers for this copy...
I bought this book at a local charity shop in my hometown of Cambridge, Ontario.

In celebration of the sesquicentennial, I have dedicated this year's bookcrossing activity to the reading and sharing of Canadian stories. I feel that the First Nations cultures form an important part of the cultural mosaic of today's Canada, and it has been very interesting to read some of their traditional stories and learn more about some of their traditional cultures and beliefs this year.

This book was written by an Algonquin/Metis woman, and seems to be designed to educate others about her cultural heritage, so I'm sure it will be a good read.

Edited to Add: I see that this is the first registered copy of The Dream Catcher Pool on bookcrossing! That's pretty cool! It's my belief that true and honest sharing of one's culture is not a bad thing, and that peace, respect, and good relations are encouraged by understanding. I hope that when I'm finished with this book it will travel well and reach new readers in the spirit of all these good things :)
---
Journal Entry
2
by
JessicaEby
at
Cambridge, Ontario Canada on Monday, November 06, 2017
I read through this book the other night while my husband was sleeping and I was lying next to him being an insomniac! It was a quick read and seems like it would actually be a very good bedtime story for kids.

In celebration of the sesquicentennial, my husband and I have been trying to see and do and experience as much Canadian culture as possible this year. Early on we attended a workshop run by First Nation Cultural Tours in which we were taught about the meaning and significance of dream catchers and then were taught how to make them-- but I was not familiar with the story of how they came to be as told in this book. Our teacher at the workshop was an Ojibway man from the First Nation of Georgina Island, and as previously stated the book's author is a Metis/Algonquin woman, so I don't know if the story is a cultural difference between those nations or if it just wasn't included in the workshop we attended, but either way it was fun and interesting to read.

I'm not sure just when/where I will release this book yet, but I hope to pass it along for others to enjoy.
---
Journal Entry
3
by
JessicaEby
at
Crawford Lake Conservation Area in Campbellville, Ontario Canada on Monday, July 02, 2018
Released 2 yrs ago (7/2/2018 UTC) at Crawford Lake Conservation Area in Campbellville, Ontario Canada
WILD RELEASE NOTES: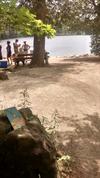 My husband and I hiked around Crawford Lake Conservation Area late this morning, and I left this book by the lake itself while we were there. Crawford Lake Conservation Area seemed like a good place to leave this book because
it has a meromictic lake renowned for its reflective nature as well as a reconstructed First Nations Village. I realise that the village is Iroquois and the book is Algonquin and these groups were historically enemies, but I figured that their cultures and stories may still be of interest to the same demographic.
If you've found this book, thanks for picking it up and checking out its journal! If you're new to bookcrossing, welcome. We'd love it if you'd stick around with us a while. I really hope that you enjoy both this book and the whole bookcrossing experience!
This book was released as part of a couple of release challenges here on bookcrossing-- the 2018 "Canada Days" Release Challenge and the 2018 "52 Towns in 52 Weeks" Release Challenge, for which Campbellville was Town #15 for me!
---

Journal Entry
4
by

AnonymousFinder

at
Belfountain, Ontario Canada on Sunday, July 15, 2018
Our boy didn't think it had enough adventure in it.
---