His Banner over Me
Registered by
JessicaEby
of
Cambridge
,
Ontario
Canada on 11/1/2017

This Book is Currently in the Wild!
1 journaler for this copy...
I bought this book at a local charity shop here in my hometown of Cambridge, Ontario. I have read a number of Jean Little books and I typically like her writing, but I'm not familiar with this book at all. I have seen it listed as a children's book, as well as "for Teens or Adults." Since it's by Jean Little, who writes a lot of Young Adult stuff and it's a Puffin book, I'm going to guess that it's intended for teens. I am excited to read this book as it's based on a true story.

In celebration of the sesquicentennial, I have dedicated this year's bookcrossing activity to the reading and sharing of Canadian stories. I am registering this book as part of my Canada 150 project.
---
Journal Entry
2
by
JessicaEby
at
Cambridge, Ontario Canada on Monday, November 06, 2017
I finished reading this book just now. I thought it was quite a lovely little book, although it wasn't quite what I was expecting when I picked it up and read the back cover. I don't mean that as either a positive or a negative really, it was just different from what I thought it would be.

I thought the book was well-written, and it was interesting-- especially since it's based on someone's actual life. The epilogue made me happy :)

I don't have a plan for releasing this book at the moment, beyond that I plan to leave it somewhere, sometime, for someone else to enjoy!
---
Journal Entry
3
by
JessicaEby
at
Cambridge, Ontario Canada on Thursday, March 29, 2018
I am journalling this book again as I now have a plan for its release.

My husband is off work tomorrow, and we plan to spend the day doing some hiking and nature-watching in Exeter. Since Exeter is just down the road (around 15 kilometres) from Kippen, I plan to take this book with me and leave it there.

The little town of Kippen is the setting for part of this book as the main character's family is from Kippen. Her mother was a Mellis, born and raised in Kippen, and the main character's first home in Canada is with her grandparents in Kippen, where they run the post office and general store. She spends several years living there and as a result a significant portion of the book is set there.
---
Journal Entry
4
by
JessicaEby
at
Post Boxes in Kippen, Ontario Canada on Friday, March 30, 2018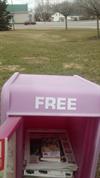 I used Google Street View to check Kippen out before we drove there, and given the connection to the story I was very excited to see that there was an old building identified as the Kippen Post Office that still had an old hitching post out front and a Canada Post sign in the window!
Unfortunately, when we got there, the Canada Post sign was not there and we suspected that the building may now be a private residence or something. Just across the street there was a back of post boxes which I assume is where Kippen residents now send and receive their mail, so I left the book over there. To keep it protected, I put it in the box for the Huron County Focus, a free regional newsmagazine. What I believe is now the former post office (where I planned to leave the book) is visible in the background of the release photo (with the green roof).
If you've found this book, thanks for picking it up and checking out its journal! If you're new to bookcrossing, welcome. We'd love it if you'd stick around with us a while. I really hope that you enjoy both this book and the whole bookcrossing experience!
This book was released as part of the 2018 "52 Towns in 52 Weeks" Release Challenge. Kippen was Town #8 for me!
---