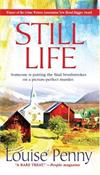 Still Life (Chief Inspector Gamache, Bk 1)
Registered by

perryfran

of
Elk Grove
,
California
USA on 10/10/2017

This Book is Currently in the Wild!
4 journalers for this copy...

Journal Entry
1
by

perryfran

from
Elk Grove
,
California
USA on Tuesday, October 10, 2017
Still Life - Chief Inspector Gamache, Bk 1
Author: Louise Penny

Chief Inspector Armand Gamache of the Sûreté du Québec and his team of investigators are called in to the scene of a suspicious death in a rural village south of Montréal and yet a world away. Jane Neal, a long-time resident of Three Pines, has been found dead in the woods. The locals are certain it's a tragic hunting accident and nothing more but Gamache smells something foul this holiday season…and is soon certain that Jane died at the hands of someone much more sinister than a careless bowhunter. …

With this award-winning first novel, Louise Penny introduces an engaging hero in Inspector Gamache, who commands his forces -- and this series -- with power, ingenuity, and charm.
---

Several weeks ago, I saw a TV piece on
Louise Penny as part of CBS' Sunday Morning program
. I was unfamiliar with Penny's books but after seeing the piece which showed what a large following she has, I decided I need to read some of her Gamache series. STILL LIFE is the first in the series and I found it to be very enjoyable. I'm sure Gamache has been compared to Agatha Christie's Hercule Poirot and that the series could be lumped in with a myriad of other cozy mysteries. However, I thought the novel was much more of a literary who-dun-it. The story takes place in the small Quebec village of Three Pines that is inhabited by a cast of very memorable characters. The village itself is very quaint and hard to get to. It's locals are engaged in art, books, good food, and archery. Gamache, chief inspector for the Sûreté du Québec, the police force in Quebec, is sent to Three Pines when an elderly woman appears to have been killed in a hunting accident. But was it an accident? Gamache must wade through the evidence including a lot of false leads before he can get to the truth. The novel kept me guessing right up till the end on who the bad guy was. Overall, it was very engaging and I'm sure I'll be read more in the series.
---
12/5/17: Including this one in the "P" authors bookring.
---
Journal Entry
3
by
Meekachu07
at
Saint Paul, Minnesota USA on Thursday, December 14, 2017
Selected from the Author Bookring, letter P. Don't know that I will read this, but will find a new home for it soon. Thanks for sharing.
---
Journal Entry
4
by
Meekachu07
at
-- Bookbox, -- By post or by hand/ in person -- USA on Wednesday, February 14, 2018
Released 1 yr ago (2/15/2018 UTC) at -- Bookbox, -- By post or by hand/ in person -- USA
CONTROLLED RELEASE NOTES:
Adding to my Paperback Surprise Bookbox. Enjoy!
---

Journal Entry
5
by

booklady331

at
Cape Coral, Florida USA on Saturday, February 24, 2018
I am selecting this book from Surprise Paperback Bookbox Round 6. I read one from this series and wished I had started with book 1.
---

Journal Entry
6
by

booklady331

at
Cape Coral, Florida USA on Saturday, June 16, 2018
This is the first in the series of the First Chief Inspector Gamache. I like reading the first of a series first. When the body of an elderly woman is discovered in the woods outside the hamlet of Three Pines, the first assumption is that this is the result of a tragic hunting accident. Unfortunately, in the world of mystery novels, nothing is ever as cut and dried as it seems.

"Still Life" is the first novel by Louise Penny. The book was published in 2007. The book introduces the title character, Armand Gamache, a chief inspector of the Sûreté du Québec, as he seeks to solve a murder in a small village near Montreal. The setting in a small village in the Canadian province of Quebec adds interest, as Penny delves some into the tensions and friendships of the characters.

From the strange and eccentric citizens of Three Pines, to the police officers tasked with solving the murder, each character is uniquely realized and speaks with a distinct voice. Penny tends to rely heavily on exposition to advance her characters in the story, rather than dialogue. This is something that I enjoy.

The mystery itself is satisfying, red herrings and false flags abound. And while the clues to solving the mystery are there to be found, they don't slap the reader in the face and scream "look at me!" Louise Penny does a good job sprinkling bits and pieces around, but blends them into the background. It's only when you go back and think about it that you put the pieces together.

In all, this is a satisfying "cozy-type" mystery, great for an afternoon's read.
---

Journal Entry
7
by

booklady331

at
Cape Coral, Florida USA on Saturday, June 16, 2018
Enjoy! KTM RABCK to BabyPooh for Allergic to A release challenge ---- A-less author and title
---

Got this book from booklady331
---

Journal Entry
9
by
babypooh
at
somewhere in Alachua in Alachua, Florida USA on Tuesday, May 07, 2019
Released 8 mos ago (5/7/2019 UTC) at somewhere in Alachua in Alachua, Florida USA
WILD RELEASE NOTES:
Welcome if you are the person who picked up this book then you're in luck!!
Bookcrossing is a fun place where book-lovers come to do the thing they love::: BOOK-READING..

P.S This book is not lost

ENJOY!!!!!

BabyPooh
---