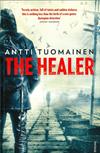 The Healer
Registered by
Tarna
of
Tampere
,
Pirkanmaa / Birkaland
Finland on 8/9/2017
3 journalers for this copy...
Journal Entry
1
by
Tarna
from
Tampere
,
Pirkanmaa / Birkaland
Finland on Wednesday, August 09, 2017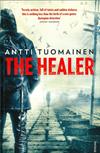 Original Finnish title
Parantaja
(2010). Translated from the Finnish by Lola Rogers. First published by Harvill Secker in 2013. London: Vintage 2014. Paperback, 250 pages.
Jacket design © Nils Olsson/Kataloga design.
2011 The Clew of the Year (Best Finnish Crime Novel of the Year)
(
The Finnish Whodunnit Society)
Shortlisted for the
2012 Glass Key Award for Best Scandinavian Crime Novel of the Year
I don't much care for crime fiction and I haven't read
Parantaja
. However, I did read
Synkkä niin kuin sydämeni
(
Dark as My Heart
) since he was so praised for his style and language. Well, I didn't much enjoy the plot but he does write very well. In my JE, I say I'd like to call his book 'literature' rather than 'crime fiction' and that he rather creates art than entertains.
Back cover:
'CHILLlNG...CLEVER, ATMOSPHERIC AND WONDERFULLY IMAGINATIVE'
SUNDAY MIRROR
WHAT WOULD YOU DO FOR THE WOMAN YOU LOVE?
It's two days before Christmas and Helsinki is battling ruthless climate catastrophe: subway tunnels are flooded; the streets are full of abandoned vehicles and private security firms have undermined the police force. Tapani Lehtinen, a struggling poet, is among the few still willing to live in the city.
When Tapani's journalist wife Johanna goes missing, he embarks on a frantic hunt for her. Johanna's disappearance seems to be connected to a story she was researching about a serial killer known as 'The Healer'. Determined to find Johanna, Tapani's search leads him to uncover secrets from her past: secrets that connect her to the very murders she was investigating...
'THRILLINGLY ATMOSPHERIC'
LlZ JENSEN
'Tuomainen's book is set in the near future, but nothing here is less than frighteningly plausible... A crime novel, yes — but it's the surefooted rendition of rain-washed urban decay that will stay in the mind of most readers'
BARRY FORSHAW, INDEPENDENT
About the authors:
Finnish ANTTI TUOMAINEN (b. 1971) was an award-winning copywriter in the advertising industry before he made his literary debut in 2007 as a suspense author. In 2011, Tuomainen's third novel,
The Healer
was awarded the Clue Award for 'Best Finnish Crime Novel 2011'. The Finnish press labelled
The Healer
'unputdownable'. With a piercing and evocative style, Tuomainen is one of the first to challenge the Scandinavian crime-genre formula. Antti Tuomainen lives in Helsinki.
LOLA ROGERS is a freelance literary translator living in Seattle. Her published translations include the novels
Purge
by Sofi Oksanen and True by Riikka Pulkkinen, selected poems of Eeva Liisa Manner for the
Female Voices of the North
anthology series, and a variety of other works of fiction, essays, poems, comics, and children's literature. She is a regular contributor to
Books from Finland
,
Words Without Borders
, and other publications.
Antti Tuomainen
at Orenda Books
Antti Tuomainen
at the Salomonsson Agency site
Finnland. Antti Tuomainen
at Finnland. Cool.
Antti Tuomainen
, Homepage
The Healer
at Antti Tuomainen's homepage
Review: The Healer, By Antti Tuomainen
at
The Independent
Tuomainen, Antti – 'The Healer'
at Euro Crime
Review of The Healer by Antti Tuomainen
at Scandinavian Crime Fiction
The Healer
at Crime Fiction Lover
The Healer
at
Kirkus Reviews
Edited, on Nov. 28th, to add that I was offering this book in greenbadger's One book a month thread this month. The book was won by Lubiette and is now reserved for her.
---
Released 11 mos ago (11/30/2017 UTC) at Pirkkala, Pirkanmaa / Birkaland Finland
CONTROLLED RELEASE NOTES:
On the way to Lubiette. Happy reading, L!
---
Safely arrived today, with the most beautiful homemade bookmark I have ever seen and a postcard of snowy Tampere. Thank you !!!!
After reading, this book will go to Icila which was also interested.
---
Journal Entry
4
by
Lubiette
at
Libération contrôlée, -- By post or by hand/ in person -- France on Friday, December 08, 2017
Released 11 mos ago (12/8/2017 UTC) at Libération contrôlée, -- By post or by hand/ in person -- France
CONTROLLED RELEASE NOTES:
I was not planning to read The Healer so soon but as I was flicking through the pages I readily got engrossed in the story and read it straight to the end, totally neglecting my other current read (actually a second-rate crime novel by Arne Dahl -> score Finland vs Sweden 1 -0).
So off it is to Icila. I hope you will enjoyed it as much as I did.
Happy reading !
---

Thank you Lubiette, I'm a bit afraid after reading what you wrote. I have plenty to do but can't resist a good book. :)
---