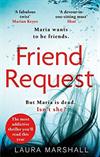 Friend Request
3 journalers for this copy...

Bought from the Bookdepository to be sent directly to the winner of the Tea and Mystery Sweepstakes.
---

Journal Entry
2
by
mcsar
at
Tea & Mystery!, RABCK Sweepstakes/Drawing -- Controlled Releases on Tuesday, October 23, 2018
Released 5 mos ago (10/23/2018 UTC) at Tea & Mystery!, RABCK Sweepstakes/Drawing -- Controlled Releases
CONTROLLED RELEASE NOTES:
Congratulations on winning this round. I chose a book on your wishlist. The book is coming directly from the BookDepository and the label and tea are coming in a separate envelop. Enjoy your loot.
---


Many thanks mcsar for this wishlist book received today :)
I will indeed enjoy the loot from this sweep.
---

A good, suspenseful read with well drawn characters. Told in a dual timeline flipping between 1989 and 2016. Quite topical in today's culture of social media, etc.



1989. When Louise first notices the new girl who has mysteriously transferred late into their senior year, Maria seems to be everything the girls Louise hangs out with aren't. Authentic. Funny. Brash. Within just a few days, Maria and Louise are on their way to becoming fast friends.

2016. Louise receives a heart-stopping email: Maria Weston wants to be friends on Facebook. Long-buried memories quickly rise to the surface: those first days of their budding friendship; cruel decisions made and dark secrets kept; the night that would change all their lives forever.

Louise has always known that if the truth ever came out, she could stand to lose everything. Her job. Her son. Her freedom. Maria's sudden reappearance threatens it all, and forces Louise to reconnect with everyone she'd severed ties with to escape the past. But as she tries to piece together exactly what happened that night, Louise discovers there's more to the story than she ever knew. To keep her secret, Louise must first uncover the whole truth, before what's known to Maria--or whoever's pretending to be her--is known to all.
---

Released 3 mos ago (12/6/2018 UTC) at By Post, By Post -- Controlled Releases
CONTROLLED RELEASE NOTES:
Travelling to the winner of the Book/Bookmark sweep :)
Congratulations and happy reading!
---
I've just received this book from New Zealand from the part of Keeta1 as I was th winner of the book/bookmark sweep.
Thank you very much.
---