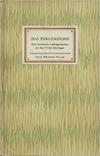 Das Perlenhemd. Eine chinesische Liebesgeschichte.
Registered by
Lillianne

of
Wilmersdorf
,
Berlin
Germany on 8/2/2017

This Book is Currently in the Wild!
3 journalers for this copy...
Journal Entry
1
by
Lillianne

from
Wilmersdorf
,
Berlin
Germany on Wednesday, August 02, 2017
Dieses Buch
... ist (m)eine Spende für Bookcrossing.
Gute Reise!

Insel-Bücherei Nr. 216
Jetzt, werte Leserschaft, vernehmt die Geschichte des Perlenhemdes, die an Merkwürdigkeiten ihresgleichen sucht und allen jungen Leuten eine nützliche Lehre sein mag.
Eine nette kleine Geschichte um die Tugendhaftigkeit der angetrauten Ehefrau. Sie hat mich sehr an die Geschichten des Richter Dis erinnert. Genauso aufgebaut und fast gleicher Schreibstil. Sie war schnell gelesen, so dass sie morgen gleich weitergegeben werden kann. Es gibt einige Inselbuchfans.
Im alten China durften die Männer mehrere Frauen nebenbei haben. Das ist nun heute nicht mehr so ... der Geschichte kann dies aber nichts anhaben :-)
Ein Stoff aus dem das Theater schöpft.
Eine Rezension der Aufführung Das Perlenhemd in der ZEIT Online
vom 5. Dezember 1946, aktualisiert am 21. November 2012.
Lesen - Registrieren - Freigeben | Read - register - release
So nehmen Bookcrosser ihre Bücher und lassen daraus eine weltweite Bibliothek entstehen. Das hier ist eines davon. Wenn du möchtest, dass die vorherigen Leser_innen erfahren, wo das Buch gerade ist, so schreibe einen Journaleintrag mit der BCID. Das geht ganz einfach und ist völlig kostenfrei. Und falls du dich anmelden möchtest, so kannst du gerne bei "Neue Mitglieder geworben" Lillianne angeben. Mit Dank im Voraus.
Ich gebe das Buch gerne in den BC-Kreislauf. Nicht jedes Exemplar, das durch meine Hände geht, kann ich allerdings lesen. Daher freut es mich, wenn du etwas zu dieser Geschichte schreiben kannst. Wünsche ein erfreuliches Lesevergnügen!
---
Dieses Buch geht nun im RE:formationsjubiläum weiter auf Reisen
... to whom it may concern.
Möge dein Tag durch viele kleine Dinge groß werden.

Singen ist eine feine, edle Kunst und Übung. Es hat nichts zu tun mit der Welt, es ist nicht vorhanden auf dem Marktplatz der Streitigkeiten. Es sorgt sich, wer singt, nicht viel, er vertreibt alle Sorgen und ist guter Dinge.
WA 1300
Wir wünschen allen eine schöne Zeit im RE:formationsjubiläumsjahr und viel Freude mit diesem Buch.
---
Journal Entry
3
by

Andrea-Berlin

at
Steglitz, Berlin Germany on Thursday, August 03, 2017
Das Büchlein wurde mir in die Hand gedrückt mit der Bemerkung, dass ich ja immer so viel verschicke.....
---
Journal Entry
4
by

Andrea-Berlin

at
- per Post versendet in -- Per Post geschickt/ Persönlich weitergegeben --, Berlin Germany on Sunday, August 06, 2017
Released 3 yrs ago (8/7/2017 UTC) at - per Post versendet in -- Per Post geschickt/ Persönlich weitergegeben --, Berlin Germany
WILD RELEASE NOTES:
Das Buch reist zu Lire. Gute Reise, Buch!
---
Das Perlenhemd lag nach meinem Urlaub in der Post.
Danke fürs An-Mich-Denken, fürs Schicken und für die schönen Briefmarken!
Du bist einfach toll, Andrea!
---
Journal Entry
6
by

Lire

at
Kornelimünster - Bücherschrank in Aachen, Nordrhein-Westfalen Germany on Monday, August 10, 2020
Released 6 mos ago (8/12/2020 UTC) at Kornelimünster - Bücherschrank in Aachen, Nordrhein-Westfalen Germany
WILD RELEASE NOTES:
Doppeltes Exemplar - darf nun jemand anderen beglücken ;-)

---