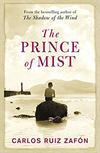 The Prince of Mist
Registered by
Abi-Gibby

of
Millbrook
,
Cornwall
United Kingdom on 7/17/2017
3 journalers for this copy...

Bookshelf declutter of previously read books, so it is finally Time for this book to start its adventure
---

Sending off to the winner of the Royal Flush sweepstakes
Congratulations, you have picked up a travelling book!
If you have a moment, we'd love you to let us know you have the book as we're keen to follow its journey. You can even post a review when you've read it before passing it on to the next lucky person.
Happy reading!
Not sure what to do? Follow these steps!
1) You may continue as an Anonymous Finder. Or, Register as a member , then you too will receive future journal entries on this book and track its journey around the world!
2) Make a journal entry on this book to let us know how you found it!
3) If you choose to read the book, please make another journal entry when you finish it to let us know what you thought!
4) Ready to pass the book on? Click on "make release notes" to let us know where it's going! Leave the book in a public place or give it to a friend!
***Please Note***
When re-releasing this book please be aware that airports are not a good place to leave books unless they have a specific book exchange shelf or area, due to security problems, so they may well just be disposed of.
**** Also charity shops may well discard books that have been labelled in any way and they mostly chose only the books in the very best condition to place on their shelves and discard the rest-so another bad release option. ****
---

Thank you for sending me this book. It is an author I have not read. I always like to try new authors. I know one should not judge a book by its cover--though I often pick books up just because of their covers--this book has an evocative cover that transports me to a different time and place. Looking forward to reading it.

------------------------
Updated December 22, 2017

Thank you so much for introducing me to this author. I really enjoyed this book. I read through it in one evening. It totally grabbed my attention. Great story telling and very atmospheric. I will look out for other works by this author.

---

Journal Entry
4
by

mcsar

at
by post, RABCK Sweepstakes/Drawing -- Controlled Releases on Wednesday, January 03, 2018
Released 10 mos ago (1/4/2018 UTC) at by post, RABCK Sweepstakes/Drawing -- Controlled Releases
CONTROLLED RELEASE NOTES:
Congratulations. I think this is something the winner/decoy will enjoy.
---
Thank you Mcsar for this book! :)
---