The Language of Thorns: Midnight Tales and Dangerous Magic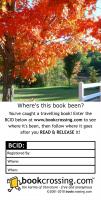 Registered by

GoryDetails

of
Nashua
,
New Hampshire
USA on 12/9/2017
This book is in a Controlled Release!
3 journalers for this copy...

Journal Entry
1
by

GoryDetails

from
Nashua
,
New Hampshire
USA on Saturday, December 09, 2017
I got this handsome hardcover at Barnes and Noble. It's a collection of fables that feature intriguing variations on some of the more traditional themes - and the artwork's impressive, with illustrations in the margins that are unique to each story, and that change from page to page so as to form a growing pattern if you thumb through the pages for the flip-book effect.

The stories:

"Ayama and the Thorn Wood" riffs on "Beauty and the Beast," but with some very satisfying revelations as to just who did what to whom, and some lessons about judging by appearances.

"The Too-Clever Fox" - a sometimes-grisly spin on the clever-animal-helps-others genre, with a sneaky twist.

"The Witch of Duva" - this one's a riff on "Hansel and Gretel," with a VERY dark turn, though things work out by the end.

"Little Knife" - about a rich man's quest to find the best husband for his near-mystically-beautiful daughter, without ever answering her questions as to whether the various tests will bring her a good man; the "Little Knife" of the title refers to a clever fellow's nickname for the river that does his bidding, and which he hopes will win *him* the bride, but things don't go as expected.

"The Soldier Prince," themed on "The Nutcracker" among other things - a good story but not one of my favorites.

"When Water Sang Fire," a beautiful and bitter spin on "The Little Mermaid" (and something of an origin story for Ursula!)

The stories are good ones, with thought-provoking twists on the old tales, but the artwork makes the book something special!
---

Journal Entry
2
by

GoryDetails

at
Nashua, New Hampshire USA on Thursday, May 03, 2018
---

Journal Entry
3
by
AlterEgoZoe
at
Stroudsburg, Pennsylvania USA on Tuesday, May 08, 2018
Taken out of the Otherworldly box.
---

I've been wanting to read some of Leigh Bardugo's work so chose this book from the
ABC Bookbox
. A short story collection will be a great way to dip a toe in!
Thanks for sharing!
---

"This goes to show you that sometimes the unseen is not to be feared and that those meant to love us most are not always the ones who do."



What a fantastic collection! I loved all of the stories but my 2 favorites would have to be "Ayama and the Thorn Wood" and "When Water Sang Fire".

The stories had the classic feel of fairy tales but told with a much different viewpoint. They are set in Bardugo's Grishaverse and so I felt they could very well be the tales people of that world would tell as their folklore. The author's notes confirms this.

Highly recommended for lovers of fairy tales, those that enjoyed Bardugo's Grishaverse books, and/or fans of fantasy.
---

Released 5 mos ago (4/21/2020 UTC) at By Mail, A friend -- Controlled Releases
CONTROLLED RELEASE NOTES:
✩ ✩ ✩ ✩ ✩ ✩ ✩ ✩ ✩ ✩ ✩ ✩ ✩ ✩

Sent to a friend in Alexandria, VA.
Happy Reading!

✩ ✩ ✩ ✩ ✩ ✩ ✩ ✩ ✩ ✩ ✩ ✩ ✩ ✩
---