Birdwing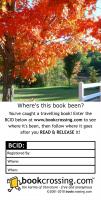 Registered by

GoryDetails
of
Nashua
,
New Hampshire
USA on 8/5/2017
2 journalers for this copy...

Journal Entry
1
by

GoryDetails
from
Nashua
,
New Hampshire
USA on Saturday, August 05, 2017

I got this good-condition ex-library hardcover at the
Little Free Library near St. James church
in Merrimack, while dropping off some books of my own.
I was entranced by the plot: it speculates on the fate of the seventh swan-brother from the fairy tale, the one who was left with one swan-wing because his sister hadn't been able to finish all the magic shirts in time. [I've enjoyed other re-imaginings of this story, including
The Wild Swans
by Peg Kerr.]
This turned out to be quite entertaining, presenting the physical and emotional trials of having to cope with an unwieldy (and sometimes hard-to-control) wing in place of an arm. Young Ardwin persists, though, enduring pain and setbacks as he learns archery and horsemanship, fighting and other skills suited to a youth of his station. But he retains fond memories of his time as a swan, especially the ability to fly, something that his brothers don't seem to miss; and he's also able to speak with animals, making him more tender-hearted than is quite comfortable for him.
And there are other complications in his life; while the breaking of the swan-curse solved some problems, the wicked step-mother who cast the curse is still around, and there are more mundane problems too, such as the growing risk of war between his father's realm and a rival kingdom. And then Ardwin learns that his father is considering having a mechanical arm made for him, for use after his wing is cut off... Cue an escape, and a new series of adventures, with new friends (human and otherwise) and some surprising revelations. [OK, some of them aren't *that* surprising if you've read a lot of fairy tales, but it was all handled very deftly, and I really liked the way Ardwin's story turned out. I've always liked the idea of the one-winged prince!]
---

Journal Entry
2
by

GoryDetails
at
Inspiration Park in Kittery, Maine USA on Tuesday, August 08, 2017

I left this book on a bench in the pretty little park at the corner of State and Government. (There's supposedly a new Little Free Library due to be installed there, but it isn't in place yet.) Hope the finder enjoys the book!
*** Released for the
2017 One Word Title
release challenge. ***
---

Journal Entry
3
by

AnonymousFinder

at
Kittery, Maine USA on Saturday, August 26, 2017
My first time coming across a Book Crossing book. It was a fun YA novel that kept me engaged. I was looking for an easy summer read for my vacation so this book came to me at the perfect time!
---