Full Time: The Secret Life of Tony Cascarino
3 journalers for this copy...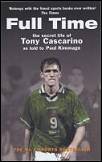 I picked this up at a new Oxfam bookshop in Woodbridge yesterday, reading now... I wouldn't normally touch a footballers biog with a large blunt crayon, but TC is co-host on a radio programme I listen to, so i'm interested in his story. The blurb offers a quote from the Guardian - "Compared with the standard-issue footballer's autobiography, this is Tolstoy."
---


Not quite Tolstoy, this is about as far away from good literature as Carlisle are from the European Champions league! I'm sure this quote meant to be ironic ;-) But this *is* a very, very honest memoir from Tony Cascarino, ghost-written by Paul Kimmage. My paperback copy has an Ireland Subbuteo player on the cover, which is how I came across the streaker, looking for an image for this review journal – well that's my excuse anyway! In this book though, TC does 'expose' himself in all the important senses of the word! He tells us about the gambling & drinking culture in football, and other temptations of living a fast & loose pop-star lifestyle (very much in the public domain now, not a great deal that's new here). But, we also see the more personal side of TC's life; the lying & cheating, constant battles with fitness, diet and demons of confidence & inadequacy, and the sheer terror at the prospect of giving up the beautiful game. The book is written as a series of flashbacks, picking out significant football and other life-events in the rise and fall of a 'joe-normal' footy player – I must admit to not knowing anything about him (except from Talk Sport) before I read this, although that didn't detract from my enjoying it – but, TC is much more complicated than that. The book is redeemed for me by the more unexpected glimpses of a bullying father, early jobs in the real world, and doubts about his claim even to call himself a 'plastic paddy'. I finished this book having a slightly higher regard for TC as a footballer and a person (but only just). However, I have a nagging concern that I don't want icons & highly paid sportsman to be so flawed – maybe i'm just a jealous wage slave though! Rating 7 for a football fan, 5 if you are not
---

Released on
Tuesday, April 27, 2004
at
to another bookcrosser
in n/a, n/a Controlled Releases.
Passed on to Gooner at the unofficial Ely meet-up today
---
Thanks to BookGroupMan for bringing this one along today, with me in mind.
---
Released at CoffeeLink at BC meet-up
---
Journal Entry
6
by
BooksNBytes
at
Ipswich, Suffolk United Kingdom on Thursday, November 08, 2012
Picked this book up at Caffe Nero in Ipswich in June 2012. A cracking read.

Sent to my brother-in-law in Canada on 8th November 2012.
---