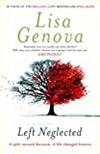 Left Neglected
4 journalers for this copy...

One typical morning, Sarah Nickerson, a woman in her mid-thirties, is late for work, racing in her car after dropping her kids off at school and daycare. She tries to phone in to a meeting she should already be at when she takes her eye off the road for a second too long. In that blink of an eye, all the rapidly moving parts of her over-scheduled life come to a screeching halt. Sarah suffers a traumatic head injury. Her memory and intellect are intact, but she has lost all interest in, and the ability to perceive, information coming from the left side of space. The left side of her world has gone. Sarah only eats the food from the right side of her plate. She can't see her watch, or her engagement diamond or her wedding ring. She tries to use a wheel chair but can only spin in circles as her left arm dangles by her side.
---

Another great novel by Lisa Genova, I really liked it.
Will be posted to brunton11 soon.

---

On the way to brunton11 now - enjoy! :)
---

Arrived safely today. Thank you so much for the tag. This looks really interesting!
---

What a great story. Another Richard & Judy recommendation I probably wouldn't have chosen myself. I'll definitely be on the lookout for Still Alice.

Reserved for Keeta1 ~ Wishlist Tag.
---

They're here :)
Thanks so much brunton11, they didn't take too long at all.

Still Alice is a great read as well, if you do come across it.
---

Another good read from Lisa Genova :)
Who knew there was even such a thing as a brain not acknowledging anything on the left? Very weird and, I imagine, awful to live with.
---

Released 1 yr ago (3/27/2018 UTC) at By Post, By Post -- Controlled Releases
CONTROLLED RELEASE NOTES:
Off to amberC in Australia as a wishlist tag - Happy reading :)
---

Arrived safely. Thank you for the tag.
---