Corduroy
2 journalers for this copy...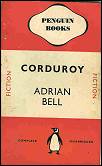 Pre-numbered label used for registration.
---

Thanks for finding this for me Chris, I know i'm gonna love it...

"I was upon the fringe of Suffolk, a county rich in agricultural details, missed by my untutored eye"
---

(12/05) Gooner has found a newer copy of this book, for my growing Suffolk collection. She's too kind. Although the original Penguin is back home in the fens, I'll write up a review before 'releasing' back

(20/05) I loved this; an innocent, poetic & gentle stroll through a farming year in Suffolk "Only a harrowing clods/In a slow, silent walk/With an old chestnut which stumbles and nods/Half asleep as they stalk."(Hardy) A true memoir, set in 1920, although take away references to tractors & cars, and it could have been any time in the last 300 years. Tales of ploughing, hunts, rabbitting, market days, colourful local characters and a hatful of farming lore. I recognised the Suffolk Countryside of Benfield St. George, near Bury St.Edmunds. I commute to work within 3 miles of it; I must leave the A14 one day and explore! Adrian Bell (father of journalist & politician Martin Bell) was an incredible man, transplanted from Chelsea, within a year he had taken on his own farm, he wrote for the local paper for many years and created and compiled the Times cryptic crossword for almost 4 decades. A poet and a polymath, we - who love England and its rural heritage - salute you for this beautiful chronicle of a people, a time and a place.

End note: funny description of inflated house prices charged to Londoners looking for a retreat, the gentleman who "sees something" beyond necessity in an old cottage, "For in Suffolk there are two values, actual and possible". How's that for mangold picking, corduroy wearing, yokels!

---

Released on
Wednesday, May 12, 2004
at
to another bookcrosser
in n/a, n/a Controlled Releases.
Given back to Gooner *big thank you* :))
---
BookGroupMan handed this one back to me, and it's now gone into my permanent collection, as it is a very old paperback and very fragile.
---
Because of unforeseen space & time restrictions, I have had to donate BC books which I registered years ago to charity shops. This is one of them.
---