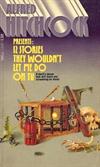 Alfred Hitchcock Presents: 12 Stories They Wouldn't Let Me Do on TV
Registered by

perryfran

of
Elk Grove
,
California
USA on 6/18/2017

This Book is Currently in the Wild!
1 journaler for this copy...

Journal Entry
1
by

perryfran

from
Elk Grove
,
California
USA on Sunday, June 18, 2017
Some books are meant for childish eyes. Others are tailored for readers with delicate sensibilities and fragile nerves. Still others can be safely scanned befor going to sleep at night. This book, however, is not one of them. For when Alfred Hitchcock is the man in charge, you can be sure of a feast designed to please the strongest appetite for pure horror and unadulterated evil!

CONTENTS

Being a murderer myself / by Arthur Williams --
Lukundoo / by Edward Lucas White --
A woman seldom found / by William Sansom --
The perfectionist / by Margaret St. Clair --
The price of the head / by John Russell --
Love comes to Miss Lucy / by Q. Patrick --
Srendi Vashtar / by Saki --
Love lies bleeding / by Philip MacDonald --
The dancing partner / by Jerome K. Jerome --
Casting the runes / by M.R. James --
The voice in the night / by William Hope Hodgson --
How love came to Professor Guildea / by Robert S. Hichens.
---

I always enjoy reading story collections compiled by Alfred Hitchcock. I'm really not sure how much he was actually involved in putting the stories together but for the most part they always hold my interest.
This collection was really a mixed bag of tales. Most of them were older stories written in the early part of the 20th century. A lot of his collections are merely reprints of stories from his Mystery Magazine or from Ellery Queen's Magazine but this collection were mainly reprints from other collections and included some very well-known stories and authors including Saki and M.R. James.
I particularly enjoyed the following:
Being a Murderer Myself
by Arthur Williams: This was a classic tale of murder and how a murderer was able to hide his crime from the police. Somewhat dated by today's standards but at the time of its publication in 1948 it was probably quite baffling.
Lukundoo
by Edward Lucas White: This was a true tale of terror taking place in Africa and written in 1927. It's about some African explorers who come upon another group that includes a man who seems to have a disease where numerous carbuncles break out all over his body. But what is really happening. Very disturbing tale involving a hint of voodoo. I have another collection of horror stories that also includes this one which apparently is a well known story.
The Perfectionist
by Margaret St. Clair: Whimsical tale about a woman who takes up art and must get a perfect rendering of her subjects including fruit, a tree, and her pet dog. But what steps does she take for this perfection?
Love Comes to Miss Lucy
by Q. Patrick: Tale about a rich spinster on holiday in Mexico with her friends who falls for a local Mexican youth. But what is the young man really after?
The Voice in the Night
by William Hope Hodgson: A ship comes upon a drifting rowboat in the middle of the night in the Pacific with someone who calls out for help and food but doesn't want to show himself. So why not? A rather bizarre tale of horror.
How Love Came to Professor Guildea
by Robert S. Hichens: This was probably the longest story in the collection about a man that seems to be haunted by another entity. But is the entity real and why has it latched onto the man?
Some of the other stories were misses for me and one,
The Price of the Head
, also was quite racist. I had always heard that M.R. James was one of the best writers of ghost stories but the story included by him,
Casting the Runes
, was to me quite boring. But overall, I did enjoy this collection.
---

Journal Entry
3
by

perryfran

at

Paperbackswap in -- Paperbackswap.com, -- By post or by hand/ in person -- USA on Monday, April 13, 2020

Released 10 mos ago (4/12/2020 UTC) at Paperbackswap in -- Paperbackswap.com, -- By post or by hand/ in person -- USA

WILD RELEASE NOTES:

Sending to a PaperbackSwap.com member in OK. Enjoy!



Welcome to BookCrossing!



Please make a journal entry to let me know that this book has been caught so I know that it has found a good home with you. If you are new to BookCrossing, please consider joining and indicate that you were referred by perryfran. I hope that you enjoy the book. You can make another journal entry with your comments when you are done reading.

Then, whenever you are ready to send it on its way, make a release note to show where the book was released. Then watch its journey. You'll be alerted by e-mail each time someone makes another journal entry. And it's confidential (you are known only by your screen name and no one is ever given your e-mail address), free, and spam-free.

I hope that you will enjoy the BookCrossing experience!

---