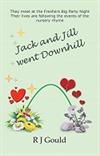 Jack and Jill Went Downhill
1 journaler for this copy...

Jack and Jill meet on Freshers Big Party Night at university and for both of them it's love at first sight. Despite their backgrounds, personalities and interests being poles apart, the relationship flourishes during their university years. It's not quite as comfortable when their studies are over and they start work, Jack in the City and Jill as a teacher.

Way back when they first met, they'd shared the joke that their names were those of the nursery rhyme. Down the line, they fail to recognise that their lives are matching the plot – Jack falls down and Jill comes tumbling after.

Their relationship is on the rocks. Can it survive?
---

Journal Entry
2
by
sharalsbooks
at
Mesa, Arizona USA on Tuesday, August 29, 2017
An entertaining story by new to me author R.J. Gould about love found, love lost and love rediscovered. Jack and Jill meet at university and immediately fall head over heels for each other in what appears to be a solid relationship, despite their different backgrounds and personalities. As they finish university and begin their lives together, the reality of adult life of bills and responsibilities sets in and begins to fracture the relationship as they both make decisions that further damage the relationship beyond repair.

I enjoyed this story and liked both Jack and Jill immensely, flaws and all. Surprisingly, I never felt myself taking one side over the other. I thought these characters were written very realistically and easy to relate to. The plot kept me engaged throughout the entire story; my curiosity was quite high about what would happen and whether or not this couple could make their way back to one another. The road getting there was quite bumpy for them both and not without a few tumbles and falls.

My Final Verdict: Readers who enjoy the chick-lit genre overall will enjoy this offering by Mr. Gould. Witty and funny with several twists that keeps the story engaging and interesting.
---