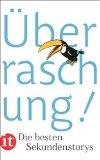 Überraschung!Die besten Sekundenstorys
Registered by

Ghanescha

of
Gmunden
,
Oberösterreich
Austria on 5/29/2017
5 journalers for this copy...
Journal Entry
1
by

Ghanescha

from
Gmunden
,
Oberösterreich
Austria on Monday, May 29, 2017
wow !!
Untertitel:
Die besten Sekundenstorys
Peter Straub
Das ewige Rätsel
Als er sie auf seinem Sterbelager ein letztes Mal sah, war sie kaum einen Tag gealtert .
E.W. Heine
Die küzeste Gespenstergeschichte der Welt.
Auf dem Derby in Epsom erschien heute der Earl von Cambridge .
Er war in Begleitung seiner Witwe
bei der
Tauschbücherei Rechberger
gekauft für BC und um örtliche Händler zu unterstützen !
---

da wollte ich mich unbedingt ein wenig überraschen lassen :-)
und hab natürlich reingelesen

sehr gut!!
---

Released 2 yrs ago (6/15/2017 UTC) at Wissensturm in Linz, Oberösterreich Austria
WILD RELEASE NOTES:
fürs große BC-Treffen: "Salzkammergut trifft Landeshauptstadt"


Liebe Finderin, lieber Finder,

herzlichen Glückwunsch, du hast ein reisendes Buch gefunden!
Ich hoffe, es gefällt dir.

Gerne gebe ich das Buch in den BC-Kreislauf. Daher freut es mich, wenn du einen Journal-Eintrag machst, damit ich weiß wo das Buch gerade ist und was du damit vor hast.
Wenn dir die Idee von Bookcrossing gefällt, kannst du dich bei Bookcrossing registrieren, das ist kostenlos und anonym. Du kannst dadurch den weiteren Weg dieses Buches verfolgen.
Infos auch auf http://www.bookcrossers.at/
bzw http://www.bookcrossers.de/

In Österreich gibt es ein eigenes Bookcrossing-Forum auf: http://bcat.a-z.in/forum/
dort gibt es Hilfe bei Fragen und Infos zu Bookcrossing und auch der Spaß kommt nicht zu kurz.

Viele erholsame Stunden und Spaß beim Lesen!
bookcrossing - Bücher finden, lesen, weitergeben - ist ein wunderbares Hobby - mach auch mit!


Hello! Bookcrossing is an online community of book lovers dedicated to sharing books with each other and the world at large. We are curious to see how far and wide this book will travel and how its readers like it. Kindly make a journal entry to let us know it's found a new reader.
Feel free to read and keep this book, pass it on to a friend, leave it back or somewhere else for the next reader. If you journal this book as a member, then you will be able to follow the book as it travels around. Happy reading!
---
War in meinem Goodiebag, vielen Dank!
Gleich ausgelesen, wirklich gut!
---
Journal Entry
5
by
Krissa33
at
Uni - Gelände in Linz, Oberösterreich Austria on Sunday, June 18, 2017
Released 2 yrs ago (6/18/2017 UTC) at Uni - Gelände in Linz, Oberösterreich Austria
WILD RELEASE NOTES:
Hallo!
Du hast ein Buch gefunden!
Henri Miller hat mal gesagt:
"Ein Buch ist nicht nur ein Freund, es schafft Dir neue Freunde. Wenn Du ein Buch in Gedanken und im Geist besessen hast, bist Du bereichert. Aber wenn Du das Buch weitergegeben hast, bist Du dreifach bereichert."
Also, jetzt kannst Du das Buch lesen, es behalten oder weitergeben. Du kannst auch einen Kommentar schreiben, gratis und anonym.
Du kannst Dich auch bei
Bookcrossing
eintragen und mitmachen!
Viel Spaß beim Lesen!
"Lire, c'est boire et manger. L'esprit qui ne lit pas maigrit comme le corps qui ne mange pas."
Victor Hugo
"Une lecture amusante est aussi utile à la santé que l'exercice du corps."
Emmanuel Kant
"When I get a little money I buy books. If any is left, then I buy food and clothes."
Erasmus
---
Journal Entry
6
by
d-vineland
at
Mainz, Rheinland-Pfalz Germany on Wednesday, June 21, 2017
Nein, man muß mir gar keine Bücher aufschwatzen. Ich nehme sie freiwillig mit, sogar noch nach dem offiziellen Ende. Und bin schon auf Seite 84.

Und am 28.06.17 hatte ich es ausgelesen, ist ja nun wirklich ein kurzweiliges Büchlein.
Meine Lieblingsgeschichte bleibt die von Erich Kästner auf S. 107,

"Marktanalyse":

Der Kunde zur Gemüsefrau:
"Was lesen Sie denn da, meine Liebe? Ein
Buch von Ernst Jünger?"
Die Gemüsefrau zum Kunden:
"Nein, ein Buch von Gottfried Benn.
Jüngers krstallinische Luzidität ist mir etwas zu prätentiös.
Benns zerebrale Magie gibt mir mehr."



---
"Begehrte ihn. Kriegte ihn. Scheiße." (S. 35) Warum steht da als Überschrift nicht "Das Leben als solches" drüber? ;-)
---