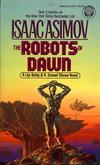 The Robots of Dawn (The Robot Series)
3 journalers for this copy...
Part of the Baley and Olivaw series. The old three laws of robotics as they are applied to a murder/mystery. I forget sometimes how much i love reading Asimov.

I'm adding this to the scifi book box.
---

Selected from the Sci-Fi Bookbox. Thank you!
---

This was an interesting sci-fi mystery, with some memorable characters and an interesting take on the possible future of robotics.

Asimov is always an author whose books I struggle to get through, but ultimately am glad I read. I really enjoy his concepts and engaging world building, which have inspired so many other writers, but struggle with his writing style. I think I would describe it as "irritatingly precise" and it can work great for creating vividly exact scenes and a unique voice to his narrative, but I can also find it frustrating as it bogs down the pace and makes for clunky dialogue. In this book, it was the frequent avoidance of pronouns or removing direct objects of a sentence. Having characters' proper names appear in nearly every sentence starts to chafe after about a page of conversation! At times I was trying to figure out if it was a deliberate technique to represent the character's voices, but we have cultural and language differences come up explicitly several times as sources of conflict without any mention of this trend.
---

---

---