Compartment No. 6
5 journalers for this copy...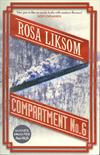 Original Finnish title
Hytti nro 6
(2011). Translated by Lola Rogers. London: Serpent's Tail 2014. Paperback, 182 pages.
Cover photography © of Image Source. Cover design by kid-ethic.com
Front cover:
'Her pen is like an arctic pen with eastern flavours'
SOFI OKSANEN
WINNER English PEN AWARD
Back cover:
WINNER OF THE 2011 FINLANDIA PRIZE
'Moscow hunkered down into a dry, frozen March evening, sheltering itself from the touch of an icy sun setting red. The girl boarded the last sleeping car at the tail end of the train, found her cabin — compartment number six — and took a deep breath ...'
Front flap:
A sad young woman boards the Trans-Siberian Railway in Moscow. Bound for Mongolia, she's trying to leave a broken relationship as far behind her as she can. Wanting to be alone, she chooses an empty compartment — No. 6 — but her solitude is soon shattered by the arrival of a fellow passenger: Vadim Nikolayevich Ivanov, a grizzled, opinionated and foul-mouthed ex-soldier. Vadim fills the compartment with long and colourful stories, recounting his sexual conquests and violent fights in lurid detail.
At first, the young woman is not so much shocked as disgusted by Vadim, but as their train cuts slowly across a wintery Russia, where 'everything is in motion: snow, water, air, clouds, wind, towns, villages, people and ideas', a grudging kind of companionship grows between the two, and the girl realises that if she works out how to listen, Vadim's stories may just contain lessons for her.
Back flap:
Rosa Liksom is a Finnish artist and the author of over a dozen books. She won the Finlandia prize in 2011 for
Compartment No. 6
.
Rosa Liksom
at English Pen's World Bookshelf
Rosa Liksom
at Wikipedia
Too much or too little love
at
Books from Finland
1/1987
rosaliksom.com
in English
Lola Rogers
at English Pen's World Bookshelf
Compartment No. 6
at English Pen's World Bookshelf
Compartment No. 6
at rosaliksom.com
A journey to enjoy — and endure: Compartment No 6 by Rosa Liksom
at
The Irish Times
(May 10, 2014)
Compartment No 6 by Rosa Liksom
at
The Bookbag
(Nov. 2, 2014)
Compartment No. 6
at
Publishers Weekly
(June 6, 2016)
Review: 'Compartment No. 6,' by Rosa Liksom, translated from the Finnish by Lola Rogers
at
StarTribune
(July 29, 2016)
Compartment No. 6
at
Kirkus Review
(Aug. 2, 2016)
Compartment No. 6: A Novel
at
Washington Independent Review of Books
(Aug. 2, 2016)
Compartment No. 6 by Rosa Liksom
at
The Rumpus
(Aug. 14, 2016)
---

I read
Hytti nro 6
as a ring book some five years ago and loved it very much. It was the first time I read anything from Rosa Liksom, and I was very pleasantly surprised. For instance, I liked the slow-speed pace, silence of the girl, and introverted atmosphere in the compartment, the fact that the girl didn't meet other passengers in the train. Most of all, I liked the way Soviet Union came alive in the story, like it never hadn't died. I've visited both Soviet Union and Russia few times and the book presented the country just as lively, hearty, contradictory, intriguing, and awkward as I've experienced it.
When the 2011 Finlandia Prize winner was announced, there were contradictory voices. Some said Liksom earned the prize, the others stated that she shouldn't have won. When looking at the journal of the copy I read, I see the same kind of opinions in there, too. Some of us really enjoyed the story, others were ambivalent and got bored in the train but liked the way Soviet Union was described. Admittedly,
Compartment No. 6
is pretty controversial but also interesting.
For the time being, this book is reserved.
---

Released 3 yrs ago (10/25/2017 UTC) at Tampere, Pirkanmaa / Birkaland Finland
CONTROLLED RELEASE NOTES:
Offered this book in greenbadger's One book a month thread. In the draw, Lubiette won the book.
HAPPY READING!
---
Thank you, Tarna ! The book arrived safely today with the beautiful postcard and bookmark. It goes on the top of my TBR as I can't wait to read it.
---
What a beautiful piece of writing ! Nothing really thrilling happens in this story evolving as slowly as the long train journey from Moscow to Mongolia, just the magic of the words describing the places, the people and the relation between the silent Girl and the strange Man sharing her compartment. I loved this unusual novel, its atmosphere and rythm. Thank you again for sharing ,Tarna.
---
Journal Entry
6
by

Lubiette

at
By Post, By Mail/Post/Courier -- Controlled Releases on Friday, November 10, 2017
Released 3 yrs ago (11/10/2017 UTC) at By Post, By Mail/Post/Courier -- Controlled Releases
CONTROLLED RELEASE NOTES:
Tag Game. In the mail to Arvores, happy reading !
---
I've heard about this book from a finnish friend and since then I felt very curious about it.

It has arrived yesterday, safe and sound, with beautiful stamps on the envelope.
Thank you so much for sharing.
---
Oh, what a great book!
I truly enjoyed travelling with the characters to Mongolia, although the trip was everything but smooth. I admire the way the author could make me feel the mystical changes of weather, the landscapes and all the little details about people and circumstances. That's what really makes this book so special.
I have another book by Rosa Liksom, a collection of short stories and her only book that I know of that has been translated into Portuguese. I'm very curious to read it.

Thank you so much for sharing this book. And to my friend Mirka for suggesting it.
Kiitos :-)

It will soon be sent to mcsar, after the wish list tag game.
---
Sent to mcsar today.
Enjoy! :-)
---

Thanks for tagging me with the book. I have been interested in the book since I became aware of it in the One Book a Month thread. I really look forward to reading this.

=====
Reserved as a wishlist tag to Tanamo.
---

I enjoyed travelling with the unlikely pair too and being immersed in the sense of place. It was interesting to read of the different faces of the Soviet Union and to see how the relationship of the two main characters grew. I grew to like the crude man more and more, though I would probably be scared to travel with him. This is not a page turner where an intense plot line carries the reader along, but it is a fascinating read in its own way.
---

Going to the next reader as part of the wishlist tag game.
---
The book has arrived safely. Thank you.
---