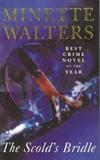 The scold's bridle
3 journalers for this copy...

Cover text:
"I wonder if I should keep these diaries under lock and key. Jenny Spede has disturbed them again . . . What does she make, I wonder, of an old woman, deformed by arthritis, stripping naked for a young man? The pills worry me more. Ten is such a round number to be missing..."

Mathilda Gillespie's body was found nearly two days after she had taken an overdose and slashed her wrists with a Stanley knife. But what shocked Dr Sarah Blakeney the most was the scold's bridle obscuring the dead woman's face, a metal contraption grotesquely adorned with a garland of nettles and Michaelmas daisies. What happened at Cedar House in the tortured hours before Mathilda's death?

The police assume that the coroner will return a verdict of suicide. Only Dr Blakeney, it seems, doubts the verdict. Until it is discovered that Mathilda's diaries have disappeared...
---

I can hardly believe I actually managed to read this book all the way through. It seemed to go on forever. But I read on because I wanted to know how it ended. And then it turned out I didn't like how it ended anyway. *sigh*
I disliked almost all of the characters in this book. Found them to be utterly unsympathetic except for Ruth; she's so young I can't dislike her.
But I guess creating a story with so many different types of bastards is an achievement in itself.
---

Journal Entry
3
by
Nordpirat
at
Bookcrossing Convention Oslo 2017 in St. Hanshaugen bydel, Oslo fylke Norway on Sunday, April 16, 2017
Released 2 yrs ago (4/21/2017 UTC) at Bookcrossing Convention Oslo 2017 in St. Hanshaugen bydel, Oslo fylke Norway
WILD RELEASE NOTES:
I hope the next reader will like it better than I did.
Will be released at the book buffet table. Happy convention!
---

Stolen from the book buffet. I really enjoyed my Minette Walters so far, and even if I honestly have no idea what the title means I'm willing to give this one a chance as well :) Thank you for sharing!
---

What I find fascinating about Minette Walters' novels so far (this is the second one I read, first was Acid Row, and there's a third one in my Mt. TBR) is the time she takes in building strong psychological profiles of damaged individuals - not the single portrait stereotype killer, but a whole palette of small manias and deep character flaws, with a thorough background of where they come from and why they are here. The action is, however, aplenty. Reveals are subtle and natural, even when bringing forth shattering information. As Acid Row, The Scold's Bridle abounds in violence and trauma, but I think they are handled very well - not merely plot devices, but a profound analysis of society's basket of deplorables, the neglect and abuse that build them and the way some of them inflict them in turn upon the world.

Thank you so much for sharing this book with us! It will travel next to VintageVanguard via the European Mystery VBB.
---

Finally posting to VintageVanguard via the European Mystery/Crime/Thriller VBB. Happy reading and sorry for the delay.
---
Journal Entry
7
by
VintageVanguard
at
Friedrichshain, Berlin Germany on Thursday, April 12, 2018
The book arrived safely in Berlin. Thank you very much!
---