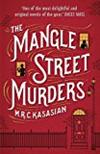 The Mangle Street Murders
Registered by

bluezwuzl

of
Altdorf (Niederbayern)
,
Bayern
Germany on 4/8/2017
4 journalers for this copy...
Journal Entry
1
by

bluezwuzl

from
Altdorf (Niederbayern)
,
Bayern
Germany on Saturday, April 8, 2017
"Queen Victoria may sit on the throne and Robert Peel's bobbies walk the streets but this is a London still haunted by the spectre of Spring-heeled Jack. The demons of vice and poverty rule the capital: ruffian gangs, forgers, pickpockets, counterfeiters, fences, prostitutes, card-sharps and vagrants clog the city with their iniquity...
But in one particular Gower Street residence - the parlour of the famous personal investigator Sidney Grice - order presides. Until, that is, the arrival of March Middleton and of course, the vicious Whitechapel murder that follows hard on her heels..."
---
A kind of mock-Sherlock-Holmes-Adventure (which, indeed, claims to have given Conan Doyle ideas for his stories 😉). Grisely murders, a famous PERSONAL detective who is always right (even when he is not) and his plain, poor ward (who is, of course, extremely capable in most situations - nor is she as poor as a ward usually is) make a nice and amusing tale. There are sometimes, however, a little bit too much words to make the dialogues poignant enough or give them the screwball-quality that seems to be intended. Yet there is hope for the next installment...
---
Journal Entry
2
by

bluezwuzl

at
-- Per Post geschickt/ Persönlich weitergegeben --, Bayern Germany on Monday, July 27, 2020
Released 1 yr ago (7/24/2020 UTC) at -- Per Post geschickt/ Persönlich weitergegeben --, Bayern Germany
CONTROLLED RELEASE NOTES:
The book now travels as a companion of the prize for the "light reading"-sweepstakes winner
Enjoy!

---
Thank you so much for this surprise! This story sounds just awesome, I love Sherlock Holmes, so it might be just right up my alley :)
---
This was a very enjoyable read! I liked the atmosphere, the time it's set in and also the characters (even though a bit cliche) were interesting to follow. The case was pretty predictable but still I had a lot of fun reading this and will be looking for part 2 of the series!
---
Travelling as a birthday present :) I hope you'll enjoy it as much as I did and that you're having the most wonderful day! Happy birthday
---
Thank you for the book.

I look forward to read it :)
---
A new author and a nice story I would say. Will be an author that I'll add to my list of ones to absolutely read – the jury is still out on that one. Yet, I enjoyed reading it and the characters are either lovable or not. You cannot settle in the middle, you truly like them or not. It's deemed to be funny in a way, and also maybe an homage to the Sherlock Holmes stories, but having said that, the story is okay. I wouldn't say it's masterpiece, but it was fun to read and a change from more serious mystery and crime novels. If someone is looking for a refreshing and fun story, it's a book to read. Otherwise, maybe keep this book as one to read when out of reading materials.
---
What a lovely surprise! Thank you very much for the book and goodies carelaisa! This looks like a fun read 😊
---