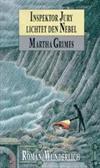 Inspektor Jury lichtet den Nebel
Registered by

ekorren

of
Tübingen
,
Baden-Württemberg
Germany on 4/10/2017

This Book is Currently in the Wild!
2 journalers for this copy...

Journal Entry
1
by

ekorren

from
Tübingen
,
Baden-Württemberg
Germany on Monday, April 10, 2017
rororo Taschenbuch von 1995
---

Mit Hermes in einer großen Kiste auf dem Weg nach Berlin.

Viel Spass damit!


Dies ist ein Wunschbuch für Lillianne.


Zählt für die Never judge a book by its cover Challenge Woche 15/2017.

---
Vielen Dank für deine wieder perfekt gepackte Bücherkiste. Ich werde die Bücher nach und nach für die entsprechenden Freilassaktionen journalen. Dieses ist ein Wunschbuch für mich - welch eine Überraschung! 1000 Dank.
Serieninfos zur Inspektor Jury-Reihe
Insgesamt sind 23 Teile der Reihe bekannt. Im Folgenden findest Du die Reihenfolge der einzelnen Bände der Serie. Die Reihe startete im Jahr 1981. Der letzte bzw. neueste Teil der Inspektor Jury-Bücher stammt aus dem Jahr 2014. [
Quelle
]
Eine sehr gute Auflistung aller Romane bekommt man über die
Kaliber38-Krimiseite
. Vielen Dank für diesen Dienst!
Bücher, die ich gelesen habe oder die auf das Lesen warten:
01 _ (1981)
Inspektor Jury schläft außer Haus
| The Man With A Load Of Mischief
02 _ (1982)
Inspektor Jury spielt Domino
| The Old Fox Deceiv´d
03 _ (1983)
Inspektor Jury sucht den Kennington-Smaragd
| The Anodyne Necklace
04 _ (1984)
Inspektor Jury küßt die Muse
| The Dirty Duck
05 _ (1984)
Inspektor Jury bricht das Eis
| Jerusalem Inn
06 _ (1985)
Inspektor Jury lichtet den Nebel
| Help the Poor Struggler
07 _ (1985)
Inspektor Jury spielt Katz und Maus
| The Deer Leap
08 _ (1986)
Inspektor Jury steht im Regen
| I Am the Only Running Footman
09 _ (1987)
Inspektor Jury besucht alte Damen
| The Five Bells and Bladebone
10 _ (1989)
Inspektor Jury geht übers Moor
| The Old Silent
11 _ (1991)
Inspektor Jury gerät unter Verdacht
| The Old Contemptibles
12 _ (1993)
Fremde Federn
| The Horse You Came In On
13 _ (1995)
Blinder Eifer
| Rainbow's End
14 _ (1997)
Gewagtes Spiel
| The Case has Altered
15 _ (1998)
Die Frau im Pelzmantel
| The Stargazey
16 _ (1999)
Die Treppe zum Meer
| The Lamorna Wink
17 _ (2001)
Die Trauer trägt schwarz
| The Blue Last
18 _ (2002)
Auferstanden von den Toten
| The Grave Maurice
19 _ (2004)
Karneval der Toten
| The Winds of Change
20 _ (2006)
Inspektor Jury kommt auf den Hund
| The Old Wine Shades
21 _ (2007)
Inspektor Jury lässt die Puppen tanzen
| Dust
22 _ (2010)
All die schönen Toten
| The black cat
23 _ (2014) Vertigo 42
Hinweis
: Jeder Band der Inspektor Jury Reihe ist nach einem real existierenden englischen Pub benannt.
Und hier noch das
Who ist who der Inspector Jury-Bücher
.
Zur Autorin
Martha Grimes
wurde in Pittsburgh/USA geboren und lässt ähnlich wie ihre »Landsfrau« Elizabeth George ihre Krimis um Inspektor Jury in »Britannia« spielen. Sie studierte an der Universität in Maryland, schrieb zuerst Gedichte bis ihr erster Roman 1981 mit einer Auflage von 3000 Exemplaren erschien. Martha Grimes ist engagierte Tierschützerin, stiftete so z. B. einen Großteil ihrer Einnahmen von »Das Mädchen ohne Namen« an eine Tierschutzorganisation. Mrs. Grimes lebt abwechselnd in Washington D.C. und Santa Fe (New Mexico).
Ihr
Interview
zeigt einige interessante Details zu ihren Romanen ... [1.8.2017]
Eine sehr gute Auflistung aller Romane bekommt man über die
Kaliber38-Krimiseite
. Sie zeigt auch für die einzelnen Ausgaben die Metamorphose der Coverbilder. Vielen Dank für diesen Dienst!
Edita schreibt am 2. Mai 2017
Mal wieder eine interessante ÖPNV-Lektüre, die ich dann doch noch am Abend zu Hause zu Ende gelesen habe, da ich die Lösung des Falles wissen wollte. Ziemlich klar - aber ich bin nicht darauf gekommen. Ich habe nun
das Buch in der Lese-Challenge
unter der Kategorie
Lesereise aufs Land
gelesen: Im ländlichen Dorset Dorset in Südengland sind ein zwölfjähriger Metzgersohn und ein Chorknabe ermordet worden. ... Superintendent Jury, sein Assistent Wiggins und sein adliger Freund Melrose Plant begeben sich in die neblige Region ...
---
Journal Entry
4
by
Lillianne

at
Südwestkorso in Wilmersdorf, Berlin Germany on Wednesday, May 03, 2017
Dieses Buch geht nun im RE:formationsjubiläum weiter auf Reisen
... to whom it may concern ... in der Nachbarschaftsbücherkiste.
Luthers Reim
»Es ist auf Erden keine bessere List,
Als wer seiner Zunge Meister ist.
Viel wissen und wenig sagen,
Nicht antworten auf alle Fragen,
Rede wenig und machs wahr,
Was du borgst, bezahle bar.
Lass jeden sein, wer er ist,
So bleibst du auch wohl, wer du bist.«
Martin Luther
[
WA 7062
]
Wir wünschen allen eine schöne Zeit im RE:formationsjubiläumsjahr und viel Freude mit diesem Buch.
---