Enter a Murderer
Registered by
stemonitis
of on 3/13/2004

This Book is Currently in the Wild!
5 journalers for this copy...
Journal Entry
1
by
stemonitis
from not specified, not specified not specified on Saturday, March 13, 2004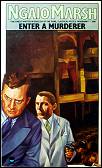 30c! That's how much I paid for this. It's another muder-mystery by Ngaio Marsh, and is of similar quality. There never seems to be much to say about these 'who-done-it's - if you enjoy the genre, then you enjoy the books. I did enjoy it, though it's not really my favourite type of book. There are some good comedy moments, and some excellent characterisations, particularly of the actors, but then Ngaio Marsh was deeply involved in the theatre. It still seems a little unlikely that a Chief Detective-Inspector (shouldn't that be Detective chief Inspector) should be such a literary person, quoting Shakespeare at more or less irrelevant points in the plot. Still, he has character.
Incidentally, Felix did it, but you knew that anyway. The question is, who made him do it?
---
I too enjoy this genre, and this is a good example of a murder mystery. It is very well thought out and written so that you can understand what is going on and not get confused! You see it through the eyes of the non-detective, which adds to the excitement. Of course, the detective knew who did it all along.
---
Taken during the meet-up. Thanks for sharing the book!
---
Journal Entry
4
by
SabinaLorenz
at
Café Einstein (Ehemalige OBCZ) in Wien Bezirk 01 - Innere Stadt, Wien Austria on Thursday, October 18, 2012
Released 7 yrs ago (10/19/2012 UTC) at Café Einstein (Ehemalige OBCZ) in Wien Bezirk 01 - Innere Stadt, Wien Austria
WILD RELEASE NOTES:
OBCZ Café Einstein - am shelf zur freien Entnahme
together with two other Ngaio March books

Lieber Finder!
Gratulation, dass Sie das Buch gefunden haben! Ich hoffe, Sie werden es mögen!
Ich würde mich sehr freuen, wenn Sie sich die Zeit nehmen, Ihre Meinung über das Buch nach dem Lesen hier einzugeben!
Das ist anonym und kostenlos für Sie!
Danke und viel Spaß beim Lesen wünscht,
SabinaLorenz

Dear Finder,
Congratulations on finding this book! I hope you enjoy it. I'd be thrilled if you took the time to let me know what you will be doing with this book once you've read it by making a journal entry.
Please note that joining www.bookcrossing.com is anonymous & free!
kind regards,
SabinaLorenz
---
Journal Entry
5
by
CafeEinstein
at
Café Einstein (Ehemalige OBCZ) in Wien Bezirk 01 - Innere Stadt, Wien Austria on Thursday, October 18, 2012
Released 7 yrs ago (10/19/2012 UTC) at Café Einstein (Ehemalige OBCZ) in Wien Bezirk 01 - Innere Stadt, Wien Austria
WILD RELEASE NOTES:
OBCZ Café Einstein - am shelf

Lieber Finder!
Gratulation, dass Sie das Buch gefunden haben! Ich hoffe, Sie werden es mögen!
Ich würde mich sehr freuen, wenn Sie sich die Zeit nehmen, Ihre Meinung über das Buch nach dem Lesen hier einzugeben!
Das ist anonym und kostenlos für Sie!
Danke und viel Spaß beim Lesen wünscht,
CafeEinstein

Zur Information: am ersten Freitag jedes Monats ist ab 18 Uhr im Café Einstein ein allgemeines Bookcrossing Meeting, zu dem jede/r Bookcrosser/in willkommen ist.
An jedem dritten Freitag des Monats gibt es ebenhier und zur gleichen Zeit ein Meet-up der Bookcrosserinnen.
Bei Fragen dazu sende bitte eine e-mail an cafe.einstein@gmx.at.

Dear Finder,
congratulations for finding this book. Please enter a journal entry, where you found the book and whether you liked it. Please let all previous owners know, whether it is save at your houes or whether you released it further.
Thanks in advance,
CafeEinstein
---
Journal Entry
6
by

Doris52

at
Wien Bezirk 01 - Innere Stadt, Wien Austria on Thursday, August 28, 2014
beim letzten Blitzbesuch am 24.8.2014 vom Cafe Einstein mitgenommen
---
Journal Entry
7
by

Doris52

at
Volkshochschule (2.Stock) OBCZ in Innsbruck, Tirol Austria on Thursday, September 04, 2014
Released 5 yrs ago (9/4/2014 UTC) at Volkshochschule (2.Stock) OBCZ in Innsbruck, Tirol Austria
WILD RELEASE NOTES:
---