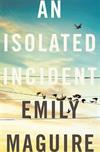 An Isolated Incident
Registered by

J4shaw

of
Boise
,
Idaho
USA on 2/22/2017

This Book is Currently in the Wild!
3 journalers for this copy...

About the Book:
When 25-year-old Bella Michaels is brutally murdered in the small town of Strathdee, the community is stunned and a media storm descends.

Unwillingly thrust into the eye of that storm is Bella's beloved older sister, Chris, a barmaid at the local pub, whose apparent easygoing nature conceals hard-won wisdom and the kind of street-smarts only experience can bring.

As Chris is plunged into despair and searches for answers, reasons, explanation - anything - that could make even the smallest sense of Bella's death, her ex-husband, friends and neighbours do their best to support her. But as the days tick by with no arrest, Chris's suspicion of those around her grows.

An Isolated Incident is a psychological thriller about everyday violence, the media's obsession with pretty dead girls, the grip of grief and the myth of closure, and the difficulties of knowing the difference between a ghost and a memory, between a monster and a man.

My Review:
Its been a long 4 years since Emily Maguire released a new book, and my word do I wish she gave us more of her writing to enjoy more regularly.
That aside, this was by far her best since her debut "Taming the Beast" which upon reading I described as "A spyglass into the world of abuse, weakness, strength and perversion....not for the faint hearted."
"An Isolated Incident" cemented her as one of my all time favourite authors, and I have no doubt will be hard pressed not to be my "Best Read of 2017".
Set against a backdrop of violence in Australia's central coast, this story portrays how being a woman can be quite frankly nothing short of shitty!
I miss Chris already!
I love Emily Maguire's unapologetic, shoot straight from the hip prose and look forward to her next book.

---

This one took a detour via 2 non BCers before finaly getting in the mail today for a trip across the ditch to fulfil an
Australasian Wishlist Tag
(I always add physical postage stamps to my packages. If you are not a collector yourself, check out the
I collect postage stamps because...
thread to find them a happy home.)
---

Journal Entry
3
by

Edwardstreet

at
Wellington City, Wellington Province New Zealand on Tuesday, July 04, 2017
Arrived today - wrapping had come off so had been at a mail centre tracking me down. Looks great thank you - and please, please send me your new address.
---

Journal Entry
4
by

Edwardstreet

at
-- By post or by hand/ in person, RABCK , bookring/ray in Wellington City, Wellington Province New Zealand on Thursday, July 06, 2017
Released 2 yrs ago (7/6/2017 UTC) at -- By post or by hand/ in person, RABCK , bookring/ray in Wellington City, Wellington Province New Zealand
WILD RELEASE NOTES:
On a wishlist of a generous bookcrosser. Read in one sitting at the hospital as I waited for my new grandson to arrive. Welcome Jerry. 4 kilo and just perfect.
---
Oh my goodness!

Look what arrived in the post today. Thank you very much Edwardstreet.
---
I've been eyeing this book on my bookshelf for months, but always had more pressing work to get on with...

Come the summer holidays, I packed this book with my swimmers for a road trip with the family. Staying our first night in Wagga Wagga, I laid in bed at the end of the day and opened the cover and fell right in.

At times the characters were not well-rounded, and featured the usual cliches, but considering the genre and length of the novel Maguire has crafted an exceptional story.

Themes of female relationships, family, abuse and social standards are shot through this story - sometimes subtly, other times thundering across the page.

Not wanting to give too much of the plot and ending away, this is by far one of the best books that I have read in months. Written as a novel, I appreciate the author has researched and written about female politics and modern Australian culture before, and it shows in the few careful words a character says at the bar in the pub, to the plot twists and developments.

Thank you for sharing this book with me Edwardstreet. I will be keeping an eye out for more of Emily Maguire's work.
---
Journal Entry
7
by
jubby
at
Broadway Shopping Centre in Sydney, New South Wales Australia on Wednesday, January 17, 2018
Released 1 yr ago (1/17/2018 UTC) at Broadway Shopping Centre in Sydney, New South Wales Australia
WILD RELEASE NOTES:
Planning on leaving on a bench or table in the shopping centre for another reader to discover and read.

*Apologies for the sand in the spine and water damage to some of the pages*
---