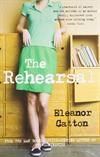 The Rehearsal
4 journalers for this copy...

Got this book on a whim in a bookstore. Looking forward to reading it.
---

Released 2 yrs ago (10/3/2017 UTC) at Wimbledon, Greater London United Kingdom
CONTROLLED RELEASE NOTES:
This book will now travel to the winner of the International RABCK Sweepstake. Congratulations!
---

The book has finally arrived after a long trip. It looks like a very interesting read. I look forward to it.
---

This one has been on my bookshelf for a while. I am happy to finally get to it. This is amazing as a debut novel, very creative in the story telling and the characters are interesting. The writing is very stylised and beautiful. The book alternates between two narrations which only start to connect more than one third (maybe half way) into the story. The two story lines develop separately and interestingly enough to keep me reading on and the book gets better when the story lines converge. There are many parts in the book that are insightful and profound. A very interesting take on watching and being watched, on acting a role and being. I like Stanley's part of the book more than the girls. The girls' part can be frustrating because of the intentional ambiguity when the author switches from reality to a play in the book or to the characters' fantasies. If you cannot stand ambiguity in a book, you will not like the book. Otherwise, this is a good read. It is a book to be read slowly and savoured.
---

Journal Entry
5
by

mcsar

at
by post, RABCK Sweepstakes/Drawing -- Controlled Releases on Thursday, September 19, 2019
Released 4 mos ago (9/19/2019 UTC) at by post, RABCK Sweepstakes/Drawing -- Controlled Releases
CONTROLLED RELEASE NOTES:
On its way to the winner of the Annual Clearance Sweepstakes. Enjoy!
---

Arrived safely today along with some bits for the HGG game
---

Journal Entry
7
by

Abi-Gibby
at
Somewhere Around The Estate in Mount Edgcumbe Country Estate, Cornwall United Kingdom on Saturday, December 14, 2019
Released 1 mo ago (12/14/2019 UTC) at Somewhere Around The Estate in Mount Edgcumbe Country Estate, Cornwall United Kingdom
WILD RELEASE NOTES:
Congratulations, you have picked up a travelling book!
If you have a moment, we'd love you to let us know you have the book as we're keen to follow its journey. You can even post a review when you've read it before passing it on to the next lucky person.
Happy reading!
Not sure what to do? Follow these steps!
1) You may continue as an Anonymous Finder. Or, Register as a member , then you too will receive future journal entries on this book and track its journey around the world!
2) Make a journal entry on this book to let us know how you found it!
3) If you choose to read the book, please make another journal entry when you finish it to let us know what you thought!
4) Ready to pass the book on? Click on "make release notes" to let us know where it's going! Leave the book in a public place or give it to a friend!
***Please Note***
When re-releasing this book please be aware that airports are not a good place to leave books unless they have a specific book exchange shelf or area, due to security problems, so they may well just be disposed of.
**** Also charity shops may well discard books that have been labelled in any way and they mostly chose only the books in the very best condition to place on their shelves and discard the rest-so another bad release option. ****
---
Journal Entry
8
by
catofUlthar
at
Mount Edgecumbe, Devon United Kingdom on Sunday, December 15, 2019
I was coming down the main tree avenue after a long walk and found it hanging from the cage round a young tree. I haven't been active in Bookcrossing for ages and it was brilliant to find a wild release. The printed sealable baggie is a great invention. I shall have to settle down over christmas and have a good read before releasing it onwards. Great to see it's ocean hopping travels and hope it has plenty more miles left in it yet.
---