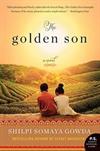 The Golden Son: A Novel
Registered by

Bookgirrl

of
Acton
,
Ontario
Canada on 2/8/2017

This Book is Currently in the Wild!
4 journalers for this copy...

Thoroughly enjoyed this book, as I did Gowda's first novel, "Secret Daughter". This is a page-turner, and again, takes you from India to the USA and back again (a few times). The ending is a surprise, but still happy.
---

Taking to the BX'ing convention in Olso, Norway. This will be part of the
Book Swap game. Shhhhh....don't tell anyone...
---

Won this at the book swap! Like you, I am interested in South Asian fiction too. Though I kind of feel bad that you bring this book all the way to Norway and I'm taking it back to America with me. LOL.

(catherineb wanted it so much in the swap, she now has it on her wishlist. So she'll be getting the book.)
---

I did chuckle, reading your JE, Azuki. But, I am sure the book will travel on after you. BTW, "Secret Daughter" - Gowda's first book - was really, really good too.
---

So, I'm 50 pages into reading this book, when it made headline news that Amazon has bought the company I'm working for. I looked at the book in my hand, with its huge "I didn't buy it on Amazon" sticker. Hmmm, high time I read and pass this on, lol!

I very much enjoyed the book, I didn't expect it to be such a page-turner (most Indian novels I've read are not) but I finished it in a few short days, eager as I was to find out what happen to Leena and Anil. Growing into adulthood certainly is not easy for either of them, I very much wish that I could transport them back to their carefree, idyllic childhood. I am reminded of the Chinese saying, "Children are jewels at home and weeds in the outside world." How true. On the other hand, it isn't like the author makes their lives melodramatically tragic. Racial violence, domestic abuse, we all know it's real and true, everywhere in the world; they make news sometimes, and even more often, they happen without making news. And not every story has as good an ending as this one.

Thank you again Bookgirrl for sharing this book. Call it my survivor guilt, or maybe the book is just not happy to have its European tour cut short, either way it's now booked itself another ticket to Norway!!


---

What a great JE, Azuki! So much fun to read that you're sending it back to Norway. I remember too, that ApoloniaX wanted the book too in the "Steal or Reveal" game. I hope she will find a copy at some point. I think she is still in Nepal, but not at the orphanage anymore. 'Hope you'll be up this way again sometime and we'll get together.
---

*Happy dancing* THank you so much for sending this book to me! I really enjoyed "The Secret Daughter", and didn't know the author had written another book before the book swap game at the convention! So I'm really looking forward to read this book!

I see that ApaloniaX is mentioned as interested in this book as well (although I honestly can't remember who tried to steal which book). So then we have at least one more potential reader for this book!
---

I've just finished this book and I really enjoyed it, just as I did with "The Secret Daughter". A real pageturner!
---

Given to a fellow bookcrosser, which will release it.

You've found a free and travelling book. It want to travel around and meet new readers.
This book is registered here at Bookcrossing.com so that its journey can be tracked. If you have found the book, I would appreciate if you could leave a "journal entry", even if you don't read the book. The journay entry can be made anonymously if you want to.

----

Du har funnet en gratis og reisende bok. Den ønsker å reise rundt og finne nye lesere.
Denne boka er registrert her på Bookcrossing.com slik at reisen dens kan følges. Hvis du har funnet boka vil jeg sette pris på om du kunne skrive et "journalinnlegg", selv om du ikke leser boka. Journalinnlegget kan skrives anonymt om du ønsker det.
---

Journal Entry
10
by

LeishaCamden
at
Alna bydel, Oslo fylke Norway on Friday, May 17, 2019
This book came home with me from meetup, to be part of a kind of project later this month :-)
---

Journal Entry
11
by

LeishaCamden
at
Dr Dedichens drivhus in Alna bydel, Oslo fylke Norway on Sunday, May 26, 2019
Released 1 yr ago (5/26/2019 UTC) at Dr Dedichens drivhus in Alna bydel, Oslo fylke Norway
WILD RELEASE NOTES:
On the temporary bookshelf, as part of the market day
---