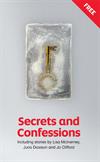 Secrets and Confessions
Registered by
rainbow3
of
Edinburgh
,
Scotland
United Kingdom on 2/3/2017
This book is in a Controlled Release!
4 journalers for this copy...

Cover blurb:
We all have secrets. Would you share yours?
Pugging school. Coming out. Accidently becoming a killer. The people of Scotland confess to their deepest secrets; acts they regret, childhood adventures. Or simply something they want to get off their chests.
These revelations are by turns touching, alarming macabre and funny. Including stories by well-known writers such as Lisa McInerney, Juno Dawson and Jo Clifford as well at the people of Scotland, this collection unlocks the nation's strangest secrets.
This book is a present to you from Scottish Book Trust to celebrate Book Week Scotland 2016.
HAPPY READING!
SECRETS AND CONFESSIONS by VARIOUS AUTHORS (2016) ISBN 13: 9781901077292 Google UID: WX56vgAACAAJ Publisher: Scottish Book Trust Sandeman House, Trunk's Close, 55 High Street, Edinburgh EH1 1S
---------------------
With stories from the Scottish public plus well-known writers Secrets and Confessions is a free book for all of Scotland to share, an absorbing read tinged with humour, scandal and thought-provoking moments. Over 150,000 copies of Secrets and Confessions have been distributed far and wide across Scotland – copies will be found in libraries, bookshops including Waterstones branches, cinemas, hospitals, cafes, universities, colleges, churches, museums, galleries, Visit Scotland information centres and hundreds of other places across the country.
eBook editions of Secrets and Confessions are also available from:
http://www.scottishbooktrust.com/reading/book-week-scotland/secrets-confessions-get-the-book
Learning resources to help people engage with the Secrets and Confessions project are available, and there is also a 10-step workshop guide for those wishing to run a Secrets and Confessions workshop but aren't sure where to begin:
http://www.scottishbooktrust.com/writing/secrets-and-confessions/resources
"We hope the stories inside will touch your heart, lift your spirits and inspire you."
---------------------
This is copy No.27 out of a big bag of copies registered on bookcrossing.com by BookCrosser rainbow3.
---

In no particular order some of the stories that stood out for me, and why…
…returning later to add thoughts, once I have finished reading a copy of this.
---------------------

---

In a tearing hurry to prep a Festive BookCrossing Exchange parcel and get it into the post. Nevertheless, instituted a search and label plan for this copy of Secrets & Confessions as while busy realised there was still just enough weight 'space' for a sliver of a book in my 'under two kilogrammes' UK small parcel. Notice I've yet to append my reading notes above, but a search, complete an add, will have to happen later, see ref to the "tearing hurry" already mentioned.

Hoped to get this parcel into the post yesterday but, my seriously, over ambitious plans indicated it's going to be today more possible. To the next reader: I hope this intrigues and at the very least makes an interesting addition to any BC parcel you may post-on in the future. As you've no wish-list nor do the seven books on your BC bookshelf give much indication of what you like to read it means all my Festive BC Book offerings are shots in the dark. My fingers are crossed that some of them hit a reading target for you!

Do let me know how you fare with this!
Festive Cheers rainbow3
---

Journal Entry
4
by
MrsDeltic
at
Ossett, West Yorkshire United Kingdom on Thursday, December 26, 2019
This fascinating little book came in my secret santa parcel.read the first short story looking forward to the rest.will open a packet every day thank you
---

Journal Entry
5
by
MrsDeltic
at
Leeds Meet @ City Museum Café in Leeds, West Yorkshire United Kingdom on Friday, January 17, 2020
Released 8 mos ago (1/18/2020 UTC) at Leeds Meet @ City Museum Café in Leeds, West Yorkshire United Kingdom
WILD RELEASE NOTES:
Taken to Leeds meet. Will be left on community bookshelf if not taken.
---

Journal Entry
6
by

Plum-crazy

at
Brighouse, West Yorkshire United Kingdom on Saturday, January 18, 2020
Picked up from todays meet-up as these books are just the right size for leaving in leaflet dispensers. Read the first four stories on the train home :o)
---

Journal Entry
7
by

Plum-crazy

at
Brighouse, West Yorkshire United Kingdom on Tuesday, March 24, 2020
A mix of short - very short! - stories & prose but for me they were a bit too abstract & random. I liked "General Lending" but otherwise I wasn't particularly keen on them.
---

Journal Entry
8
by

Plum-crazy

at
by post, A RABCK -- Controlled Releases on Thursday, August 06, 2020
Released 1 mo ago (8/6/2020 UTC) at by post, A RABCK -- Controlled Releases
CONTROLLED RELEASE NOTES:
On its way to help restock Nu-knees' dwindling TBR pile :o)
---

Journal Entry
9
by

Nu-Knees

at
Knaresborough, North Yorkshire United Kingdom on Saturday, August 08, 2020
This is one of the many books I found in the amazing box of books the postman delivered at silly o'clock this morning! I've never had so many arrive at once!
Thank you very much, plum. Your generosity is overwhelming - and I won't complain about a lack of books to read for months . . .
---

Journal Entry
10
by

Nu-Knees

at
Knaresborough, North Yorkshire United Kingdom on Friday, August 14, 2020
I'm English and rubbish at languages! I was taught French, Latin, German and even some NT Greek at school, but none of it stuck - and I've never studied Gaelic, so it's fortunate for me that there are translations of the stories and poems that I wouldn't have understood without (e.g. pp34, 76, 100).

Where I failed was with the stories whose spellings were supposed to represent dialect pronounciations. I couldn't decode them, had to give up and move on to the next contribution in the collection.

I've finished the book - and can't remember any of them, none having made a lasting impression on me. Thanks anyway, plum, for the chance to experience them!

I think I'll pass it on to tree-hugger when I next see her. As a librarian who's been involved with Big Reads and such like, she might be interested to see what other bodies have been giving away :-)
---

To tree-hugger when we met this afternoon. Lovely to see you, lass. Enjoy!
---