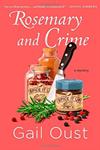 Rosemary and Crime: A Spice Shop Mystery (Spice Shop Mystery Series)
Registered by
JennyC1230
of
Woodstock
,
Georgia
USA on 1/26/2017

This Book is Currently in the Wild!
2 journalers for this copy...

Book #1 in the Spice Shop Mystery series:

Murder comes well-seasoned in this charming mystery featuring a smart and spunky new amateur sleuth, small-town Georgia spice shop owner Piper Prescott.

Piper Prescott, a transplanted Yankee living in the South, has got her sass back. She might be down, but don't count her out. "Change of life?" she asks. Bring it on. Recently divorced, Piper decides to pursue a dream she's secretly harbored: owning her own business, Spice it Up!, a spice shop in her adopted hometown, Brandywine Creek, Georgia. But Piper's grand opening goes awry when the local chef who's agreed to do a cooking demo is found stabbed. Not only did Piper find the body, she handled the murder weapon and doesn't have a witness to her alibi, making the case look like a slam dunk to brand new police Chief Wyatt McBride.

Desperate to uncover the truth - and prove her innocence - Piper enlists the help of her outspoken BFF Reba Mae Johnson to help track down the real culprit. The pair compiles a lengthy list of suspects and work to eliminate them using their own creative brand of sleuthing techniques including stakeouts, breaking and entering, and one very unorthodox chocolate pie. When Piper narrowly avoids being a victim of a hit-and-run, she knows she's getting closer to the truth, but can she catch the killer and clear her name before she becomes the next victim?

A captivating start to a new series featuring an unstoppable fabulous new crime-solving heroine, a colorful cast of small town characters, and more than a pinch of Georgia charm, Rosemary and Crime by Gail Oust is sure to delight fans of Diane Mott Davidson and Donna Andrews.

I found this book in the local Little Free Library when I was dropping off some Bookcrossing books. I can't resist a cozy mystery!
---

Journal Entry
2
by
JennyC1230
at
Woodstock, Georgia USA on Wednesday, February 22, 2017
My Review: Really cute cozy mystery. I loved the fact it takes place in the south, it makes for fun characters. I'm looking forward to reading more in this series. The main character and her best friend are a hoot.
---

Journal Entry
3
by
JennyC1230
at
Woodstock, Georgia USA on Monday, May 08, 2017
---

Journal Entry
4
by
JennyC1230
at
~ RABCK ~, -- By post or by hand/ in person -- USA on Wednesday, November 08, 2017
Released 3 yrs ago (11/8/2017 UTC) at ~ RABCK ~, -- By post or by hand/ in person -- USA
CONTROLLED RELEASE NOTES:
If you have found this book, welcome to Bookcrossing and thank you for taking the time to let us know about its journey. Feel free to enjoy the book and pass it along to a friend, neighbor, family member or co-worker, or simply leave it somewhere for another lucky reader to enjoy as you did! This book isn't your type of read? No problem, don't feel obliged to read it, just be kind enough to help it on its journey. If you join, please use my name as your referring member: JennyC1230.

Sending to eponine38 from the Mystery VBB. Enjoy!
---

Thank you, JennyC1230! I look forward to starting this series!
---

Quick, easy, and enjoyable read. I enjoyed the characters; Piper's best friend Reba is entertaining indeed. As in many cozies, there's the subplot of attraction between the Sleuth (in this case, Piper) and the police officer (in this case, new Police Chief Wyatt McBride). Cozies can be a bit formulaic, but they're almost always good reads.

Thanks for sharing this, JennyC1230! I'll be looking for the next in the series.
---

Journal Entry
7
by

eponine38

at
Little Free Library, Grayson Rd. in Winchester, Massachusetts USA on Thursday, March 15, 2018
Released 2 yrs ago (3/15/2018 UTC) at Little Free Library, Grayson Rd. in Winchester, Massachusetts USA
WILD RELEASE NOTES:
Left at about 4:45. Hope it finds a new reader!
Released for
Keep Them Moving Challenge
hosted by booklady331.
Released for
2018 Wine+Food Release Challenge
hosted by GoryDetails.
Released for
2018 4 Elements Challenge
hosted by Firegirl, for the embedded "rime".
Dear Finder,
Welcome to BookCrossing!
Please make a journal entry so we know this book has found a new home.You don't need to join BookCrossing and you can remain completely anonymous. However, we encourage you to join so that you can follow this book's future travels. (You'll receive an email anytime someone makes a journal entry). It's fun, free, and confidential. If you decide to join, consider listing eponine38 as referring you.
Take your time reading the book, and after you finish, please make another journal entry to record your thoughts about it. This book is now yours, and you can keep it if you choose, though we would love for you to share it. If you pass it along, please make a release note to let others know where you left it "in the wild", or a journal entry if you gave/sent it to a known person.
I hope you enjoy the book!
---