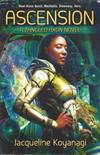 Ascension (Tangled Axon)
Registered by

hyphen8

of
Honolulu
,
Hawaii
USA on 1/25/2017
3 journalers for this copy...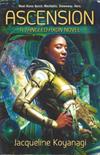 This is not an ordinary book: it's a
BookCrossing
book! BookCrossing books are world travelers - they like to have adventures and make new friends...and every once in a while they even write home to say what they've been doing.
☻ ☻ ☻
Ex-library book: picked up secondhand via
Amazon
.
Space opera with elements of fantasy & romance, featuring a disabled lesbian protagonist of color? I thought I'd give it a shot.
Sky surgeon Alana Quick likes nothing better than working on spaceships. Unfortunately, it's not a very lucrative profession, and trying to cope with a debilitating genetic ailment doesn't help. Then a ship arrives looking for her sister, and Alana ends up stowing away for a chance at a better life. She ends up with a lot more than she bargained for - including a powerful attraction to the ship's captain.
Here's a copy
wild released by the author
! :D
---

One of not-very-many SF books I can think of with a non-white female on the cover - and she's not falling out of a scanty outfit, either!
Once I got over disliking the ship's crew somewhere in Chapter 4, this went along a lot better.
I'd be interested in seeing the further adventures of this bunch, but at the same time I wonder where the author would take them next - after everything they've been through, anything smaller would seem anticlimactic...but something bigger might be a bit much.
Maybe it's better to let Alana and her shipmates sail off into the sunset after all...but I'll keep an eye out for more from
this author
.
Some bits I found worth another look (spoilers):
On grief:
I was starting to realize my parents would be dying all the time, in my head. Over and over again, they would die, and Adul would fade, and I would never
not
see that when I closed my eyes, or when I heard their names, or when I heard certain sounds, saw certain colors, felt certain things. Everyday things, like the weight of the shoes I wore the day they died, or the feeling of the navigation console beneath my fingers. When I did those things, I'd lose everything all over again. That was what it meant to grieve.
On love, specifically polyamory:
"It's not any different than your parents loving you and your sister at the same time. You think they loved her more because she came first? You think she took priority just because she happened to pop into the world ahead of you?"

....

"Love is like sunlight", she said when I didn't respond. "You can give all of yourself to someone and still have all of yourself left to give to others, and to yourself. To your work. To anything or anyone you choose. Love isn't like food; you won't starve anyone by giving it freely. It's not a finite resource."
---

Monday, October 16: adding this to emmejo's
LGBTQ+ box
- happy reading!
~ ~ ~ ~ ~
I'm so glad you've found this book!
Please take a moment to make a journal entry and let this book's previous readers know that it's safe with you.
How and where did you find the book? What did you think of it? What are you going to do with it next?
It's now your book, for you to do with as you please: keep it, pass it to a friend, or maybe even leave it where someone else can find it!
If you've ever wondered where your books go after they leave your hands, join BookCrossing and you may find out: you'll be able to follow the further adventures of your books as new readers make journal entries - sometimes from surprisingly far-flung locations.
(Think of it like Where's George for books: a little like geocaching or a treasure hunt - you can follow a registered book's journey every time someone makes a new entry. Some BookCrossers even leave books *in* geocaches!)
BookCrossing: making the whole world a library!
---

Journal Entry
4
by

erishkigal

at
Salt Lake City, Utah USA on Tuesday, November 14, 2017
Pulling from the LBGTQ bookbox~ and super-excited to read it!
---

Journal Entry
5
by

erishkigal

at
Salt Lake City, Utah USA on Thursday, July 18, 2019
Brought this badass book along on my way to the Rez, to send to the winner of the lesbian theme sweepstakes. Now I have a name, all I need is to find a post office!
---

Journal Entry
6
by

GoryDetails

at
Nashua, New Hampshire USA on Monday, July 22, 2019
Thanks so much! (I got two sweepstakes books in today's mail, so I cleverly deduce that I'm the winner!) This one sounds really good!
---