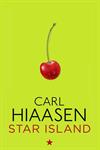 Star Island
Registered by

Icila
of
Nantes
,
Pays de la Loire
France on 1/24/2017
3 journalers for this copy...

Journal Entry
1
by

Icila
from
Nantes
,
Pays de la Loire
France on Tuesday, January 24, 2017
wo-year-old pop star Cherry Pye is attempting a comeback from her latest drug/ alcohol disaster. Ann DeLusia is Cherry's "undercover stunt double", standing in for Cherry whenever the singer is too wasted to go out in public. One night, Ann-as-Cherry is mistakenly kidnapped from a Miami hotel by an obsessed paparazzo named Bang Abbott. Now the challenge for Cherry's handlers is to rescue Ann while keeping her existence secret from the public."

"A gripping and wickedly satirical take on celebrity culture, "Star Island" is Carl Hiaasen's funniest, fastest and most incisive novel to date."
---

See here for entries on another copy :

https://www.bookcrossing.com/journal/13803285/
---

How happy to tag whir and sending a book to Honolulu ! :o)
---

Arrived safely in the mail. Thank you very much for sending this my way!

Tapping out on page 222. I really tried to like this book. I know I had a hard time with Nature Girl because I thought Hiaasen was too heavy-handed with his conservation/ecology message. This story about the cult of celebrity seemed a safe distance from that theme. I do not know what changed - me, Hiaasen, or the world in general - but freakishly damaged (physically and emotionally) people behaving in obsessive or selfish ways is no longer funny or entertaining. No one in this book is vaguely likeable. The protagonist, Ann, the decoy for the spoiled celebrity, lacks any real appeal, and even the Governor has lost his charm. Everybody is using and abusing others and full of excuses to justify their behavior.

Reserved for release at Hawaii Book & Music Festival.
---

Journal Entry
5
by

ghir

at
Hawaii Book & Music Festival in -- Mail or by hand-rings, RABCK, meetings, Hawaii USA on Saturday, May 06, 2017
Released 3 yrs ago (5/6/2017 UTC) at Hawaii Book & Music Festival in -- Mail or by hand-rings, RABCK, meetings, Hawaii USA
WILD RELEASE NOTES:
This book is registered at BookCrossing.com to track its journey through this world. You can make a journal entry (anonymously, if you like) to say you found it, then read it and/or pass it on for someone else to enjoy. Thank you!
---

Journal Entry
6
by
dustyflint
at
Honolulu, Hawaii USA on Sunday, November 15, 2020
Found at the Friends of the Library bookstore at the ARTS at Marks Garage. Some things never become lost, only found. Thanks, Ghir!
---