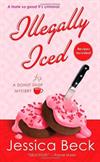 Illegally Iced: A Donut Shop Mystery (Donut Shop Mysteries)
3 journalers for this copy...

Book #9 in the Donut Shop Mystery series:

Donut shop owner Suzanne Hart knows how to treat her customers. But sometimes life can get a bit sticky. When a spat she has with a local blacksmith - one that could have been solved with a handshake and a mixed dozen - ends with his murder, Suzanne is caught dead in her tracks. Suddenly everyone in April Springs has their eyes on her. And they're hungry with suspicion.

Left with little choice but to catch the killer herself, Suzanne starts lining up suspects. But her case is full of holes. How did the killer strike in the middle of the day without a single witness to the crime? Who knew that the humble blacksmith was actually an heir to a family fortune? The heat is on as Suzanne tries to solve the case and save her business. Can she have her cake-donut and eat it too?
---

Journal Entry
2
by
JennyC1230
at
Woodstock, Georgia USA on Friday, January 27, 2017
My Review: I love this series, but this book was just ok for me. I have the next book in the series and that might be my last one, depending on how it goes.

Sending to DVG, I have shared other books in this series with her. Maybe she will like it more than I did.
---

Journal Entry
3
by
JennyC1230
at
-- Mailed, -- By post or by hand/ in person -- USA on Tuesday, February 07, 2017
Released 4 yrs ago (2/7/2017 UTC) at -- Mailed, -- By post or by hand/ in person -- USA
CONTROLLED RELEASE NOTES:
If you have found this book, welcome to Bookcrossing and thank you for taking the time to let us know about its journey. Feel free to enjoy the book and pass it along to a friend, neighbor, family member or co-worker, or simply leave it somewhere for another lucky reader to enjoy as you did! This book isn't your type of read? No problem, don't feel obliged to read it, just be kind enough to help it on its journey. If you join, please use my name as your referring member: JennyC1230.

Sending this surprise book with several other books to DVG. Enjoy!
---

Found this title in a surprise box of books from my friend, JennyC1230, who got me hooked on this series. I can't wait to dive in and find out what is next for Suzanne, her donut shop and the characters in this town. Thank you! =)
---

Journal Entry
5
by
dvg
at
-- Mail or by hand-rings, RABCK, meetings, trades, Florida USA on Monday, June 12, 2017
Released 3 yrs ago (6/13/2017 UTC) at -- Mail or by hand-rings, RABCK, meetings, trades, Florida USA
CONTROLLED RELEASE NOTES:
This book is continuing its journey as a RABCK to Stephario. I hope you enjoy. =)

I have really enjoyed all the books in this series but this one was simply okay. To be fair, I haven't had a lot of time to read this past week, reading a chapter here and there. That might play a part in my thought on this particular installment in the series. The main character and supporting characters lived up to expectations, I simply felt the plot could have been stronger. I will read the next in the series to see if I feel the same and take it from there.
Happy Reading and Happy BookCrossing!
---

Thanks DVG!! Books arrived safely and are being added to my insane Mt. TBR pile!
---