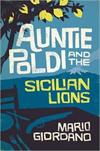 Auntie Poldi and the Sicilian Lions: Auntie Poldi 1
Registered by

Plum-crazy

of
Brighouse
,
West Yorkshire
United Kingdom on 1/13/2017

This Book is Currently in the Wild!
3 journalers for this copy...

Journal Entry
1
by

Plum-crazy

from
Brighouse
,
West Yorkshire
United Kingdom on Friday, January 13, 2017
*ARC rec'd from goodreads*

Auntie Poldi can think of no finer place to wait for death than Sicily. All she asks is a sea view, fine wine (and plenty of it), and her family close around.

When death instead takes her handsome young friend Valentino - and under mysterious circumstances at that - Poldi will not take it lying down.

Perhaps it's in her blood (her father was a detective chief inspector); perhaps it's a diverting excuse to spend more time with men in uniform; or perhaps it's just the promise she makes to Valentino while holding his poor dead hand.

But Auntie Poldi's hunting instincts have never felt more alive. Justice must be served - if it's the last thing she does . . .
---

Journal Entry
2
by

Plum-crazy

at
Brighouse, West Yorkshire United Kingdom on Monday, January 23, 2017
In short an enjoyable enough read but one that left me wondering why I didn't like it as much as I feel I should have.

Auntie Poldi was a character I liked well enough, a German Agatha Raisin was how she struck me but although the two have much in common - being a lady more mature in years (if not in actions) & man-mad for a start - unlike our Aggie's tales, I wouldn't class this as a cosy-mystery.

The idea for the story was good enough but I found parts of the story confusing, on more than one occasion having to flick back through the pages to check on a previous point. At times things just didn't seem to follow on (Poldi's assumption that Alessia was a colleague of Montana's after the lido meeting - where did that come from?)

While the Sicilian setting was well described, if I'm to be honest there was a bit too much of Sicilian geography & history for me at times, rather than adding to the story it had me glazing over.

While I didn't love it, I'll read more I the series if I happen across them...if only to find the answer to the burning question...WHAT'S WITH THE WIG?!!
---

Journal Entry
3
by

Plum-crazy

at
Bookbox, by mail -- Controlled Releases on Monday, November 06, 2017
Released 1 yr ago (11/6/2017 UTC) at Bookbox, by mail -- Controlled Releases
CONTROLLED RELEASE NOTES:
Added my "A World of Crime" Bookbox.

Released as part of the NOVEMBER "THE" CHALLENGE (#7)
---

What fun many thanks Plum-crazy for inclusion in the World of Crime Book-Box – round 2 – adventure and thanks for organising said FUN!!! Sped through three of the books in the box – a gentle read, a thriller and more literary treat, all most enjoyable* – and I took two books out of the box for reading later and this is one of them.**

I'm marking this as TBR & have slung it onto a TBR pile. I must admit I am very tempted to start reading it now but am still getting other books read that I had intended popping in Christmas parcels so it remains to be seen how long this may linger on a TBR stack.

*I've read and made journal entries on these three books:
"Killman" - G W Kent (THE SOLOMON ISLANDS)
https://www.bookcrossing.com/journal/14679847
"Snow White Must Die" - Nele Neuhaus (GERMANY)
https://www.bookcrossing.com/journal/14627969
"The Fig Tree Murder" - Michael Pearce (EGYPT)
https://www.bookcrossing.com/journal/13660949

**And I have taken out these two books to read later:
"Auntie Poldi & the Sicilian Lions" - Mario Giordano (SICILY)
https://www.bookcrossing.com/journal/14356584
"The Silence of the Sea" - Yrsa Sigurdardottir (ICELAND)
https://www.bookcrossing.com/journal/14380545
---

Journal Entry
5
by
Flutterbies9
at
Meare, Somerset United Kingdom on Saturday, December 29, 2018
Received 19th December but left aside in a pile not dealt with before the Christmas festivities overtook all Bookcrossing, sorry. rainbow3 sent this down intending to read over the festive season but we forgot to sort it out in time. It may yet be read by rainbow3, but perhaps not on this occasion!
On tbr, at present. A new author for me and one that sounds interesting as well! Looking forward to this.
---

Journal Entry
6
by
Flutterbies9
at
Meare, Somerset United Kingdom on Tuesday, January 22, 2019
Woops, obviously forgot to add the journal at the time I completed this one.

This was a gentle and easily read book with great descriptions of Sicily running counter to the 'Mafia bandit country' usually depicted. It made a change to have a German woman lead but the 'detection' was low key nonetheless. I would read others in this series if I ever saw them again.

There is a plan for this so I'll put it on reserve just now.
---

Journal Entry
7
by
Flutterbies9
at
RABCK, -- By post or by hand/ in person -- United Kingdom on Friday, May 17, 2019
Released 5 mos ago (5/4/2019 UTC) at RABCK, -- By post or by hand/ in person -- United Kingdom
CONTROLLED RELEASE NOTES:
Released to rainbow3, an easy and very enjoyable read.

This is styled between a cosy mystery and a more meaty murder , but it is rather fun. I enjoyed it.
---

Half-way through this and squeaking with delight to be enjoying this so much! So thought I'd leave a (((THANK YOU))) for plum-crazy for the opportunity to read about Auntie Poldi through the writings of her, mysteriously unnamed, though admiring nephew. Super too, that the book cover burble echo's the style of the, appealingly droll, chapter headings.
---------------------

Book burble: The first Auntie Poldi adventure: in which Poldi discovers a small but heavily guarded paradise, jousts with death, and solves the mystery of a missing lion.
The Times Crime Book of the Month
'Mario Giordano has created a delightful detective and a lively, humorous portrait of Sicilian society and gastronomy'
AUNTIE POLDI & THE SICILIAN LIONS - MARIO GIORDANO (2015) (Trans: John Brownjohn, 2016) | ISBN: NB this is an uncorrected proof copy which notes, 9781473655164 for the HB copy | Publisher: John Murray |
---

Journal Entry
9
by

rainbow3

at
Filmhouse Cinema in Edinburgh, Scotland United Kingdom on Tuesday, July 16, 2019
Released 3 mos ago (6/23/2019 UTC) at Filmhouse Cinema in Edinburgh, Scotland United Kingdom
WILD RELEASE NOTES:
Apologies for some late reading notes, made in June 2019 and now added.

Finished and enjoyed this hugely. In fact, I enjoyed it as much as I enjoy Andrea Camilleri's writing… this is just such a different cup of coffee because of the singular character of Auntie Poldi. [An odd analogy yes, clearly, coffee's my thing.] Eternally curious and rather bold in her directness of speech and flamboyant costume I took a bit of time of warm to Auntie Poldi but I like her though, and also her Italian relatives and friends who so ably example the character of Sicily, tricksey ways and all. There are some fine character 'gems' here.

Poldie is opinionated, curious, ingenious enjoys strangers and has one of those top investigator's fatal flaws. Even when it is in her own best interests to cease chasing people for answers, Poldi is compelled is to persist in her efforts to discover noisome and ultimately lethal detail. Needless to say I'd recommend this to all and sundry it is highly entertaining.

The brisk synopsis of each Chapter heading were so amusing! ['Chapter heading' fun as mentioned above for example chapter one;

Describes how and why Poldi moves to Sicily and what her sisters-in-law think of it. Unable to function without her wig and a bottle of brandy, Poldi invites everyone to a roast pork lunch, makes her nephew an offer he can't refuse, and gets to know her neighbours in the Via Baronessa. One of them goes missing shortly afterwards.

OK took this along and released it - Sun 23 June - at a BookCrossing Meet-up with the Old Gang at an Edinburgh BookCrossers and visiting chums meet. If it was not picked up it was taken to the Official Bookcrossing bookshelf in the Filmhouse Café Bar.
---------------------

Hello book finder, if you aren't familiar with the BookCrossing world of TRAVELLING books – WELCOME!

Feel free to keep this book it is yours to do with as you wish, read it, or pass it on to keep it travelling. You can leave notes anonymously or if you journal this book as a member, you will hear from the book on its travels. If you do join quoting the name of the Bookcrosser who registered this – see journal entry 1 – as your referrer would make a BookCrossers day. Thank you and HAPPY READING, cheers rainbow3!

---