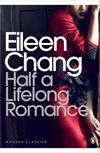 Half a Lifelong Romance
4 journalers for this copy...
Description

From one of twentieth-century China's greatest writers and the author of Lust, Caution, this is an unforgettable story of a love affair set in 1930s Shanghai.

Manjing is a young worker in a Shanghai factory, where she meets Shujun, the son of wealthy merchants. Despite family complications, they fall in love and begin to dream of a shared life together - until circumstances force them apart. When they are reunited after a separation of many years, can they start their relationship again? Or is it destined to be the romance of only half a lifetime? This affectionate and captivating novel tells the moving story of an enduring love affair, and offers a fascinating window onto Chinese life in the first half of the twentieth century.
---
Journal Entry
2
by
BaiLong
at
Home Sweet Home Sweepstake, Sweepstake Winner -- Controlled Releases on Monday, January 09, 2017
Released 3 yrs ago (1/9/2017 UTC) at Home Sweet Home Sweepstake, Sweepstake Winner -- Controlled Releases
CONTROLLED RELEASE NOTES:
Congratulation on winning this sweeps! Enjoy this book from a Shanghai author!
---

Thank you very much for this book and the nice postcard. I'm very much looking foward to reading it!

****
Beautifully written novel. It allows a glimpse into life in Shanghai in the 1930s.
---

The book is now travelling to the winner of the "authors from unusual countries" sweepstake. Congratulations and enjoy the book!
---

---


Loved reading this book, even if I had to keep in mind all the time some aspects of major importance: this is a current translation from a 1969 version of a novel written and serialized in 1950 (in a Shanghai review). All this contributes for sure on how it plays out.
What I liked the best in the book was the detailed account of culture, scenery, homes, food, appearances and lives of those living in Shanghai around the period portrayed, before and after the sino-japanese war.
On the other hand, I definitely didn't like it when that omniscient descriptive third person came telling us what was going to happen before it happened or what the characters were feeling or were going to feel like in a moment.
Also, some parts of the storyline were a tad melodramatic for my taste, even if the turning point, near the middle of the novel, is clinically written, with brutal simplicity, which I liked.
The novel is essentially a romance, but it becomes a portrait of class and gender as well, in the China of the thirties. And it doesn't present only the good and the villain, but introduces the reader to some quite probable characters. As I read somewhere, "to what extent can one fault a mother for preventing a financially unsound marriage, at the expense of so-called romance? To what extent may one forgive a sister's life-ruining betrayal when she has also put one through school by working as a taxi-dancer, which has in turn destroyed her marital prospects? What even qualifies as life-ruining? What is or isn't for one to forgive? To blame?"
---

Going out as a vacation compannion of a non-BC friend, Nin-guem.
...
Came back soon afterwards. Nin-guem liked it a lot halfway through, but then got a bit tired of the "soap opera" within. I can relate to that ;)
---

---

My favourite kind of bath: the book showers (as well as a real rain shower, which I been missing sooooo much).
Thanks conto. And what a joy to receive a book that has been travelling from China :)
---

Indeed this soap-opera novel almost took its tool as several times I felt tempted to leave the reading. All the difficulties and misunderstanding were too much, at times. But, like conto, I was fascinated by the cultural aspects of life in Shangai, the costumes, the traditions, the houses, the importance of being a financial support for all the family, and also the burden of being a (kind of) independent working woman at that time.
I was expecting a slightly different ending but, well, that's how life is.
---