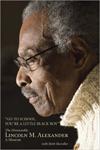 "Go to School, You're a Little Black Boy" The Honourable Lincoln M. Alexander: A Memoir
Registered by
JessicaEby
of
Cambridge
,
Ontario
Canada on 1/7/2017

This Book is Currently in the Wild!
1 journaler for this copy...
My first registered book of 2017!

As a proud Canadian, and in celebration of the 150th anniversary of my country's Confederation, I've decided to devote this year's bookcrossing (and by extension, the the entirety of my reading this year) to Canadiana; books written by Canadians, books set in Canada, books about Canada/its people/our culture and our history. I have chosen this to be my first registered book this year, and I am anxious to read the story of such a great man, in his own words!

Canada Day celebrations have long been a big deal in my city, and one year when I was very little-- just a few years old-- the marshall of our Canada Day parade was none other than our province's Lieutenant-Governor at the time, Lincoln Alexander. My parents took me to see the parade and one way or another, my few-years-old self ended up meeting and talking briefly with His Honour. I don't remember it very well because I was so young at the time and it was such a big, busy day with so much going on... but it's always been a dear and important memory for me anyway, and I've always admired the man I met that day. When I grew up, I married the son of a man who has lived all his life in Hamilton, has been active in the community and political life of that city, and has actually known "Linc" in some manner over the years; my father-in-law's opinions of him only re-enforced the feelings of respect and admiration that I have had for so long. As a result, I was very excited to find this book at a charity shop (benefitting the Ontario Federation for Cerebral Palsy) in my neighbouring city of Kitchener, ON while looking for some good Canadiana to read last night.

When I got this book home and opened it up I saw that it once belonged to a former mayor of Norfolk County, Dennis Travale, and was a gift to him from that county's public library system. A quick Google search told me that he is still in politics, now at the federal level as a Senior Security Advisor for the Privy Council Office. I also found a sticky note about a suggested reading (p. 177, last two paragraphs) from Donnaree Douglas. That name sounded familiar so I did another Google search and learned that she is an activist/advocate of multiculturalism from Norfolk County. I don't know why her name is familiar to me, but between my husband and myself we have a lot of family in Norfolk County, so perhaps it's just a Six-Degrees-of-Separation thing, who knows. Anyhow, that is what I know of this book's history. At first I was sad to think that Mr. Travale had gotten rid of such a book-- such a gift from the library system of the area in which he was once elected mayor-- and in fact the "gift" aspect still does seem sad to me, but perhaps he was just trying to do what I intend to with this book after I've read it: share this important story with other readers.

I hope to journal this again soon!
---
Journal Entry
2
by
JessicaEby
at
Cambridge, Ontario Canada on Friday, January 19, 2018
Unfortunately I did not get to this book soon-- it's been more than a year since I registered it-- but I have finished reading it now, just in time for Lincoln Alexander Day (Jan. 21) 2018.

I may not agree with absolutely every opinion/point of view that Linc had, but really, when do two people agree on absolutely everything? Not very often (we actually do agree on many things, however)! But regardless, whether I agree or disagree with his thoughts, I have great respect for him. I already felt that way when I picked up this book, and nothing throughout the book gave me any cause to change my opinion of him. There are some very sage words within these pages, and I think it would be great for Canadian society and for the world if more people read them and took to heart a message that is stressed so often in these writings-- respect other people. It seems like such a simple, basic, unnecessary thing to say... but the sad truth is, it needs to be said. It needs to be taught. It needs to be put into practice far more often.

I am hoping to release this book on Sunday, which is Lincoln Alexander Day in Canada. I hope that it will be found and read and shared... and that more people will take in and digest the words of this great man who we were lucky enough to call a member of our own society. There are a number of places fairly nearby that would be fitting release locations for this book, but the current forerunner is a spot in one of my neighbouring cities, Guelph ON-- specifically at Alexander Hall (named after Linc) on the University of Guelph campus.
---
Journal Entry
3
by
JessicaEby
at
University of Guelph-- Alexander Hall in Guelph, Ontario Canada on Sunday, January 21, 2018
Released 3 yrs ago (1/21/2018 UTC) at University of Guelph-- Alexander Hall in Guelph, Ontario Canada
WILD RELEASE NOTES:

Released around noon today in honour/celebration of Lincoln Alexander Day. I left it in a protective bag, sitting on a bench in front of Alexander Hall (the bench closer to the Alexander Hall sign).
If you've found this book, thanks for picking it up and checking out its journal! If you're new to bookcrossing, welcome. We'd love it if you'd stick around with us a while. I really hope that you enjoy both this book and the whole bookcrossing experience!
This book was released as part of the 2018 "52 Towns in 52 Weeks" Release Challenge. Guelph was Town #2 for me!
---