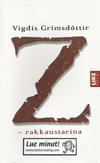 Z - rakkaustarina
Registered by

Tarya

of
Helsinki
,
Uusimaa / Nyland
Finland on 11/19/2016

This Book is Currently in the Wild!
3 journalers for this copy...

Journal Entry
1
by

Tarya

from
Helsinki
,
Uusimaa / Nyland
Finland on Saturday, November 19, 2016
Z on kaunis ja melankolinen tarina kahden naisen välisestä rakkaudesta. Kuolemansairas runoilija Anna kertoo kirjeissään rakkaudestaan Z-nimiseen naiseen. Z lukee rakastajattarensa tekstejä tämän sisarelle Arnthrùdille, jonka näkökulma tuo tarinaan myös sisarrakkauden väkevät värit.

Alkuteos: Z - Ástarsaga (1996)
Suomentanut Tapio Koivukari

3. painos
Like 2002
---

Tämä on vapaana jatkamaan matkaa, sillä minulla on TBR-hyllyssä Kempun rekisteröimä kappale kirjasta, http://www.bookcrossing.com/journal/4296773/.
---

Varattu kirjan hepanneelle duffelille, toimitus ensi maanantain taavina-miittiin Kappeliin :)
---

---

Sain kirjan eilen kuriirilta. Kiitos! Tämä pääsee lukujonon kärkipäähän, jotta mahdollisimman moni muukin aakkoshaastetta suorittava ehtii halutessaan lukea rakkaustarinan. Pari kirjaa pitää ensin hoitaa alta pois, mutta sitten :)
---

Luin tämän melko pintapuolisesti, mikä ei tehnyt hienolle tarinalle oikeutta. Tämä pitäisi lukea hitaasti, syventyen, eläytyen, jotta saisi kaiken irti. Mutta kyllä teksti toimi ihan hyvin näinkin.
---

---

Kiitos kirjasta, kiltit kierrättäjät!
---

Viime tippaan jäi tämän lukeminen aakkoshaasteeseen. Välillä muistelin aikaa olevan kuun loppuun saakka, mutta onneksi varoitettiin ajoissa. Tässähän ennättäisi vielä pienen kirjan lukea. Onneksi ei tarvitse.
Pääsin alkuun vähän hitaanlaisesti, mutta sitten teksti vei mennessään. Hieno tarina!
Ja kelpaa jopa Helmet-haasteeseen kohtaan 27.
On tämä myös surullinen tarina.
This is my book #40 in the
Reduce Mount TBR 2018
-challence by Dove-i-libri.
---

Miittiin mukaan.
Lukuiloa!

---


Teemavapautus:
Kirjan nimi ja vapautuspaikan nimi alkavat kirjaimella Z.
Kirjä jäi Zoomi kuvakaupat -liikkeen edustalle.
Lukuiloa löytäjälle!
Book #84 in the
2018 Keep Them Moving
-challence by Booklady331
---