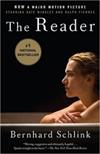 THE READER
2 journalers for this copy...
4è couverture : " For 15-year-old Michael, a chance meeting with an older woman leads so far more than he ever imagined. Before long, they embark on a passionate , clandestine love affair which leaves Michael both euphoric and confused. For Hanna is not all she seems.
Years later, as a law student observing a trial in Germany, Michael is shocked to find Hanna in the dock. The woman he loved is a war criminal. Much about her behaviour during the trial does not make sense. Hanna must answer for a horrible crime, but she is desperately concealing an even deeper secret..."
---
How to live with culpability?
What would we have done?
---

to JosefinJ .
Enjoy this reading
---
This one was waiting for me when I opened the mailbox. Thank you!
---