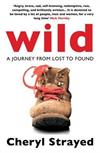 Wild: From Lost to Found on the Pacific Crest Trail
4 journalers for this copy...
"At twenty-six, Cheryl Strayed thought she had lost everything. In the wake of her mother's rapid death from cancer, her family disbanded and her marriage crumbled. With nothing to lose, she made the most impulsive decision of her life: to walk eleven-hundred miles of the west coast of America - from the Mojave Desert, through California and Oregon, and into Washington state - and to do it alone. She had no experience of long-distance hiking and the journey was nothing more than a line on a map. But it held a promise - a promise of piecing together a life that lay in ruins at her feet. Strayed's account captures the agonies - both mental and physical - of her incredible journey; how it maddened and terrified her, and how, ultimately, it healed her. Wild is a brutal memoir of survival, grief and redemption: a searing portrayal of life at its lowest ebb and at its highest tide."

I bought this from a library sale and I'm glad I did. This was really good. Emotional and exciting. I wish I could find more books like this, because lately I haven't been finding books that really interest me.
---
Journal Entry
2
by
slipperbunny
at
Helsinki, Uusimaa / Nyland Finland on Thursday, December 29, 2016
I'm sending this forward as a bookray. The last reader can keep the book, find a new reader or make a wild release, whatever you want. =)

Link to the bookray-post: http://www.bookcrossing.com/forum/20/537219/

Participants:
Edwardstreet (New Zealand, internationally)
litrajunkie (Germany, Intl)
Arvores (Portugal, Intl)

---

Journal Entry
3
by

Edwardstreet

at
Wellington City, Wellington Province New Zealand on Monday, January 09, 2017
Arrived in New Zealand today, will read next and get onto the next person in the bookray- thank you for sending such a long distance. I am sure I will enjoy this.
---

Journal Entry
4
by

Edwardstreet

at
-- By post or by hand/ in person, RABCK , bookring/ray in Wellington City, Wellington Province New Zealand on Thursday, January 12, 2017
Released 2 yrs ago (1/13/2017 UTC) at -- By post or by hand/ in person, RABCK , bookring/ray in Wellington City, Wellington Province New Zealand
WILD RELEASE NOTES:
Off to Germany as soon as I get the address of the next person in this ray.
A very American book, so much angst and issues. I nearly gave up in the first few pages, just how many troubles can one person have. I was tempted to shout " pull yourself together".
But nevertheless an inspiring journey.
---
Journal Entry
5
by

litrajunkie

at
Bamberg, Bayern Germany on Monday, January 30, 2017
The book arrived safely at the packstation on Saturday, 09:23 CET. Today, I picked it up during my lunchbreak. Although it was shipped by air mail, it took almost exactly a fortnight to travel halfway around the world. Some progress to the 40 days it would have taken in
Jules Verne
's time.
Thanks for letting me take part in this ray and for the fascinating picture postcard of the jewel anemones on
Poor Knights Islands
.
It's the only book belonging to a ray/ring on my shelf right now, so it's on the top of my MTBR and I'll start reading it right away, maybe even tonight.
---
Journal Entry
6
by

litrajunkie

at
Pretzfeld, Bayern Germany on Monday, February 20, 2017

Though an important part of the book does not deal with the
PCT
or hiking at all, but introduces the reader to Strayed's pre-
PCT
life (suffice it to say that it was "interesting"), there is enough of long-distance hiking lore in it to place it among the truly great travel stories.
Hiking the
PCT
is no piece of cake; sure, a lot of awesome scenery is waiting to be discovered, but also a lot of hardship has to be overcome: heat, drought, wind, rain, snow, ice, cold - companions that will be familiar to anybody how has done some serious hiking himself (or served in the military). Strayed weighs herself down with a large and heavy backpack aptly nicknamed "Monster". She never gets used to her heavy hiking boots and experiences crushing fatigue on the evening of every hiking day. Some of the things that happen to her on the trail might be due to sheer bad luck - sometimes she seems to be jinxed. Inexperience as well as her sloppy navigation skills put her in some quite tight playces. However, she also has a lot of good luck and her determination and stamina let her carry on and survive where others might have given up or broken down.
The part of Germany I'm living in is called "Franconian Switzerland" - a true paradise for hikers and climbers. See my
pic
for further details (map info etc.).
- - -
Challenge
Lesereise 2017
19. Eine Reise zu Fuß, wandern, pilgern...: Mit Cheryl's Trip auf dem PCT kann ich auch diesen Punkt abhaken.
---
Journal Entry
7
by

litrajunkie

at
Bamberg, Bayern Germany on Monday, February 20, 2017

Sent the book off to
Arvores
during lunch break.
The book will travel a record-breaking 1,810 mi (2.912 km) to reach its next reader, obliterating my old record of 898 miles (
Fear of Flying
).
Thanks to
luftlinie.org
for the map.
---

The book arrived last Monday. I got distracted. Sorry about that.
Thank you so much for sharing. Since I'm the last one on the list, I will relax and read some other books related to the wishlist tag game first.

Kiitos.
Heippa! :-)
---