Do Or Diner: A Comfort Food Mystery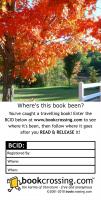 Registered by

GoryDetails

of
Nashua
,
New Hampshire
USA on 10/20/2016
3 journalers for this copy...

Journal Entry
1
by

GoryDetails

from
Nashua
,
New Hampshire
USA on Thursday, October 20, 2016
I picked up this cozy-mystery paperback at Barnes and Noble today. It's a food-themed cozy with (obviously!) a diner setting, and does spend a fair amount of time showing how heroine Trixie, newly divorced and out of work, takes on the task of managing and renovating her beloved aunt's diner. All this would be complicated enough if the health inspector didn't turn up dead in the diner in a plate of the family recipe for pork and scalloped potatoes!

Familiar cozy tropes abound here, including the "heroine falls for the local law enforcement officer" - this happens so often that I find it a bit annoying, but in this case it's lampshaded by Trixie having once been married to a law enforcement officer and very gunshy about the hunky local deputy.

The plot of the mystery seemed overly contrived to me, but the setting and characters are rather fun - even if they get a bit heavy-handed with the diner theme now and then!

As per most of these series, this one includes recipes, some of them quite tantalizing - though the infamous pork-and-potatoes one turns out to require more work than I'd have expected for a diner dish. The pot roast one looks nice and simple, though!
---

Journal Entry
2
by

GoryDetails

at
Brookline, Massachusetts USA on Saturday, October 22, 2016
I plan to give this to BCer eponine38 at the meetup, to fill a wish. Enjoy!
---

What a nice surprise, Gory! Thank you so much!

I was sorry to miss the meetup and hope (am sure!) you all had an enjoyable time.


---

I love trying out new series and found this book to be quite enjoyable. Somewhat formulaic, yes, but still fun!

I'm always impressed by just how much work it is to run an eating establishment – of any kind - so enjoy reading books set in such places.

I worried throughout about when our protagonist, Trixie, would finally get some sleep. Every time she went home to take a nap, someone would call or show up at her door. Funny to be so concerned about a fictional character. Guess she seemed quite real to me and I could somehow identify.

And a couple of the recipes do sound good (the dessert-y ones, of course!)

Thanks again for sharing this, Gory!

Amazon:
When Trixie Matkowski agrees to take over her aunt's diner, she pictures lakeside views and delicious comfort food in the small town where she spent summers as a child. But the sweet scene turns sour when someone puts murder on the menu…

Trixie is in need of a fresh start away from her cheating ex-husband, but she may be biting off more than she can chew when she moves to upstate New York to run her family's famed Silver Bullet Diner. Not only is she caught off guard by the small town's resident heartthrob, Deputy Ty Brisco, but her first health inspection turns into a nightmare…when the inspector keels over in his Blue Plate Special.

It seems someone made a deadly addition to an old family recipe, and Trixie is determined to find out whodunit. But between serving up orders and sniffing out clues, she'd better watch her back—or her next meal might be her last.
--------------
Reserved for bookstogive's Mystery/Thriller/Suspense VBB (Round 19)
---

On its way to booklady331 via bookstogive's Mystery/Thriller/Suspense VBB. Hope you like it!
Released for
Keep Them Moving Challenge
hosted by booklady331.
Welcome to BookCrossing!
Please make a journal entry so we know this book has found a new home.You don't need to join BookCrossing and you can remain completely anonymous. However, we encourage you to join so that you can follow this book's future travels. (You'll receive an email anytime someone makes a journal entry). It's fun, free, and confidential. If you decide to join, consider listing eponine38 as referring you.
Take your time reading the book, and after you finish, please make another journal entry to record your thoughts about it. This book is now yours, and you can keep it if you choose, though we would love for you to share it. If you pass it along, please make a release note to let others know where you left it "in the wild", or a journal entry if you gave/sent it to a known person.
I hope you enjoy the book!
---

Journal Entry
6
by

booklady331

at
Cape Coral, Florida USA on Saturday, June 16, 2018
Received today. It may have been here sooner, but we returned from vacation today. Thank you for sharing this book with me. I haven't read anything by this author and I like trying to discover new authors.
---

Journal Entry
7
by

booklady331

at
Cape Coral, Florida USA on Sunday, January 20, 2019
Nice to read the first of the story in a series. Enjoyed this nice cozy mystery. Trixie needed a fresh start and moved to upstate New York to take over her aunt and uncle's diner. She gets caught up with a murder that happened in her diner. The book includes recipes.

Reserved for ABC VBB
---