An American Plague: The True and Terrifying Story of the Yellow Fever Epidemic of 1793 (Newbery Honor Book)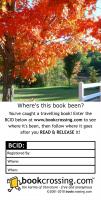 Registered by

GoryDetails

of
Nashua
,
New Hampshire
USA on 2/14/2017
5 journalers for this copy...

Journal Entry
1
by

GoryDetails

from
Nashua
,
New Hampshire
USA on Tuesday, February 14, 2017
I got this good-condition hardcover from Better World Books. It's about the deadly yellow-fever plague that struck Philadelphia in 1793. (I'd read a YA novel about this,
Fever 1793
, a while back.)
This book's aimed at younger readers too, but is still a pretty comprehensive look at the plague. I especially enjoyed the images from the local newspaper, featuring articles about the spreading illness, pleas from the mayor in an attempt to preserve order, and more.
The descriptions of the stench of a crowded, busy town in a very hot summer, with a shipload of spoiled and rotten coffee added to the usual ordure, would certainly put me off any desire to time-travel - at least to that spot! But it added to the increasingly-horrific atmosphere; bad enough to be horribly ill, too weak to help yourself and perhaps abandoned by your terrified neighbors, but to suffer all this in a sweltering room...
The book goes into the actions of the townsfolk - including George Washington, as Philadelphia was the capital of the US at that time - as well as the struggles of doctors to identify and attempt to treat the plague. I was surprised to see the controversy as to whether this was or was not yellow fever; apparently yellow fever, uncurable then (as now, though there are much better treatments and preventatives these days), was so frightening that many people didn't *want* to believe it had struck.
The book touches on the panic and horror, but also features acts of great kindness and even heroism - some from an unexpected quarter: the Free African Society provided nursing care to a community in which slavery was still legal...
Despite all the efforts to treat the disease, the plague didn't abate until cold weather struck. The book describes the town's responses to it all, which included a massive cleanup of the water system and the streets - all good things, though not directly connected to the true source of yellow fever, which wouldn't be conclusively identified for over a century. The book has a chapter on that, too, with a surprising quote from a
Washington Post
editorial circa 1900, to the effect that the "mosquito hypothesis" was "silly and nonsensical rigmarole"! I wonder if they ever got around to retracting that one?
---

Journal Entry
2
by

GoryDetails

at
Nashua, New Hampshire USA on Wednesday, February 15, 2017
---

a thankyou wishlist book arrived today! I had no idea that I had released the most books.

I also read the same YA book years ago, spied this on others' wishlists, so added to mine.

Making a note as I shelve this with the other ABC TBRs to check wishlists when done, to see where it travels to next.
---

rabck from Gorydetails; a history of the Yellow Fever epidemic in Philadelphia. I read the other book - fever - which was told as historical fiction. This one brought out more of the history, including the government turmoil at the city, state and federal level. I also didn't realize that there were other years with Yellow Fever epidemics. The last chapter is sobering, as it outlines the "eradication"...almost of the disease. But because it's not completely gone and never will be, we're at a disadvantage when it reappears again. to mobilize resources to help the sick and prevent the disease from striking the well, BEFORE it kills quite a few people...again.

This one is being rabck'd in the tag game to another bc'r

---

Journal Entry
5
by

NancyNova

at
~ RABCK ~, -- By post or by hand/ in person -- USA on Saturday, March 11, 2017
Released 3 yrs ago (3/11/2017 UTC) at ~ RABCK ~, -- By post or by hand/ in person -- USA
CONTROLLED RELEASE NOTES:
Moving along as a wishlist tag. Enjoy!

If you aren't familiar with Bookcrossing, take a few minutes to check out this very cool site. Bookcrossers LOVE books, and more than anything, they love to read books and then set them free for other people to find and enjoy. I would love it if you would leave a journal entry -- you can say where you found the book or how you liked it when you read it. Then, when you are ready, pass it along for someone else to enjoy! Thanks and happy reading!
---

Received today as a wishlist tag -thank you NancyNova! (Larger photo
here
.)
Amusingly I got two books in the mail today and both of them started off with GoryDetails. :)
(Like the two previous journalers, I read Fever 1793 at some point so it should be interesting to learn more about the subject.)
---

Quite an interesting read. Like Gory, I enjoyed the addition of the newspaper excerpts, etc. - I always say the more "visual aids" in a history book the better. :)

The last chapter is indeed sobering: we had a number of cases of dengue fever - another mosquito-borne disease - here not that long ago, so unfortunately these things are still out there, waiting...

---

Headed for Massachusetts as a wishlist surprise.
USPS tracking # 9549 0104 3302 7125 1403 43
ETA 5/26/17
This book would probably work for the non-fiction VBB, the medicine chest box, or even the biographies of things box, but I was hoping to count it for Secretariat's
2017 Never Judge a Book By Its Cover Challenge
instead (week 17: country names). Unfortunately I see that Sec has ruled against "America" for this week...but I'm ok with fulfilling a wish "just because" instead. :)
~ ~ ~ ~ ~
I'm so glad you've found this book!
Please take a moment to make a journal entry and let this book's previous readers know that it's safe with you.
How and where did you find the book? What did you think of it? What are you going to do with it next?
It's now your book, for you to do with as you please: keep it, pass it to a friend, or maybe even leave it where someone else can find it!
If you've ever wondered where your books go after they leave your hands, join BookCrossing and you may find out: you'll be able to follow the further adventures of your books as new readers make journal entries - sometimes from surprisingly far-flung locations.
(Think of it like Where's George for books: a little like geocaching or a treasure hunt - you can follow a registered book's journey every time someone makes a new entry. Some BookCrossers even leave books *in* geocaches!)
BookCrossing: making the whole world a library!
---

OMG I'm so sorry I didn't journal this earlier - was sure I had. :-(

Thank you so much for this wishlist book, hyphen8! Also for the variety of bookmarks and labels.

Again, I apologize for the very delayed journal.
---

I knew nothing about the Yellow Fever Epidemic of 1793 (and lesser ones of other years) so this was all new and interesting info. I was particularly touched by the number of African-Americans who helped to nurse the victims.

It's always interesting to reflect on the fact that, until recently in the course of human history, people thought diseases were caused by bad air (miasma). Since we all know about bacteria and viruses it's somewhat difficult to put oneself into that mindset. At least it is for me. How extra-frightening the world must have been a few centuries ago.


---

---

Journal Entry
12
by

Dove-i-Libri

at
Fort Myers, Florida USA on Friday, April 20, 2018
I had read about this epidemic that occurred in Philadelphia when it was the capital of our country in the book "Fever 1793"
(Link)
. It was a children's book that I had used with my sons during homeschool, but it sparked my curiosity. When I saw this title, I added it to my wish list.
Thank you, "eponine," for thinking of me when you had this book to share! It arrived this week. I'll be sure to add a journal entry when I read it, but I don't know when that may be.
Thanks again!
---