Alive in Necropolis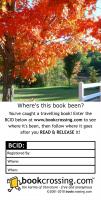 Registered by

GoryDetails

of
Nashua
,
New Hampshire
USA on 10/25/2016
This book is in a Controlled Release!
1 journaler for this copy...

Journal Entry
1
by

GoryDetails

from
Nashua
,
New Hampshire
USA on Tuesday, October 25, 2016
I found this good-condition hardcover at a local Savers thrift shop, and thought it sounded intriguing - a novel set in Colma, California, a town known for hosting all the cemeteries that were relocated from San Francisco and environs, and where more land is devoted to graves than to the living.
Later: The book is a mystery/police-procedural with romance subplots - and ghosts. [I've been to Colma, btw - it's pretty cool! But I didn't see any actual ghosts, unlike the protagonist of the novel.] Despite some rather gloomy bits regarding our hero's lovelife (and tendency to suffer painful-sounding head injuries), I found the book very entertaining, not least because a key secondary character is none other than the ghost of Phineas Gage, for whose sake I made a recent book-release/geocaching road trip (read about it
here
).
The general idea is that some of the deceased residents of Colma are still around, either because they don't know how to pass on to whatever lies beyond, or don't want to. Most of them seem to enjoy whiling away the time reliving favorite things from life, but there's a threatening band of criminal-type ghosts led by "Doc" Barker (one of the sons of the infamous Ma Barker) who seem to enjoy harming others, beating and stabbing them. (Ghosts can, it seems, feel pain and take damage, though it mends itself quickly.) And, worse, sometimes they force "Root", some kind of plant, on their victims, with the result that the souls combust and disappear for good. (Whether they are utterly destroyed or simply forced into an afterlife we never learn, but most of the ghosts seem very unwilling to suffer this fate.)
Meanwhile, rookie cop Mike is enjoying his new job as patrolman in Colma, even if he spends much of it rousing drunken teenagers from the many nooks and crannies of the cemeteries. But one night he finds a teen who's been drugged, stripped, and bound, and who would very likely have died if he hadn't come across him - and since the boy's the son of a famous film director (royalty in that part of the world) this leads to responsibilities that Mike isn't sure he wants. (The fate of young Jude is a secondary theme of the novel, and one of the more painful; yes he's young and very inexperienced, and from a family that makes him crave sensation and attention, but the choices he makes are pretty universally horrible.)
In the process of rescuing the boy, Mike takes the first of his head injuries, and whether that makes him more likely to see ghosts or not, he does begin to sense odd things. He finds out that his deceased predecessor was seeing things too, and his records (the case-histories and police logs are transcribed directly into the story, sometimes serving as the only narrative for some events) reveal a gang of ghostly marauders preying on the innocent.
Mike juggles this with his feelings for an older woman who's just insecure enough to cause unnecessary turmoil in their relationship. And Mike's partner, a tough-guy cop with a romantic nature that leads him into too-hasty relationships with predictably unfortunate results, adds snarky humor and wonderful camaraderie to the tale.
As for the ghosts themselves, Gage was my favorite, from his first appearance in a fit of fury as he tries to find his beloved tamping iron. (Readers who don't know his story may be baffled by this, though the details do come out eventually.) He finds a friend in the ghost of early aviator Lincoln Beachey, who's fond of attempting aerial stunts in the ghost of his airplane, sometimes crashing and sometimes not. (Good thing the ghosts can heal!) More standoffish is the ghost of Lillie Hitchcock Coit, patroness of San Francisco firefighters (whose activities she still watches), though she does step in late in the story to help Mike and co. deal with the gang.
Whether the story's a mystery, a ghost story, a love story, or an action adventure - or all of the above - is up to the reader; I found it very entertaining, despite some sympathetic pains each time poor Mike got bashed or otherwise broken. And I loved the interactions of the ghosts, nearly all of whom were based on historical characters and who seemed to be treated very fairly in-story. (How Gage and Beachey end up is my favorite part of the book!)
I did want to shake Mike at a few points - he didn't do justice to Fiona, though she had communication issues of her own that contributed, and he was awfully naive regarding the sexy redhead he went after later. But he was so preoccupied with his cases and his injuries and the forlorn cop-widow neighbor and young Jude, the boy he rescued early on, that perhaps he should get a pass for being obtuse now and then.
Very unusual and entertaining novel! And if it has a moral, it'd have something to do with the power of friendship, which keeps cropping up in the most unlikely places and the most opportune times...
---

Journal Entry
2
by

GoryDetails

at
Nashua, New Hampshire USA on Thursday, December 08, 2016
I plan to take this book to the Yankee swap at my monthly book group. Hope the finder enjoys it!
*** Released as part of the
2016 What's In A Name
release challenge, for the embedded "Ali" in the title. ***
*** Released as part of the
2016 D for December
release challenge. ***
---