The New York Trilogy:
Registered by
BookGroupMan
of
Criccieth
,
Wales
United Kingdom on 3/7/2004

This Book is Currently in the Wild!
3 journalers for this copy...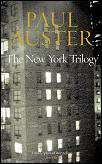 Some review comments and an extract from blurb:-
"A shatteringly clever piece of work"
"Seductive metaphysical thrillers"
"(NYC) becomes a strange, compelling landscape in which identities merge or fade and questions serve only to further obscure the truth"
In hindsight, I should have been suspicious right there before starting to read this book, nay, before even buying it. Words like 'obscure', 'strange' and 'metaphysical' have no place in reviews of fun books. In future I will look for 'satisfying', 'funny', 'heart-warming', maybe? I like 'clever', and enjoy having to think a little to follow a plot and appreciate underlying philosophies, but 'shatteringly clever' - what does that mean even??
Anyway, back to my review. This book consists of 3 separate detective stories (novellas really), although they are linked, but you don't begin to see how until well into the 3rd. And even then, its all very confusing (well it was for this 'Bear of Very Little Brain'!); familiar names crop up, events & characters get muddled together, time stretches & contracts and the poor reader loses all sense of perspective. In the end I didn't see the point of it all? I didn't feel any empathy with the main characters of each story, all 3 'tecs' are similarly middle-aged, unsympathetic, flawed men, although we are led to believe that the first 2 are fiction, and the third 'real' – I don't know really, I could care less! Sorry, maybe I wasn't in a very perceptive mood?
---

Released on
Saturday, July 17, 2004
at
BCUK 2004 Unconvention @ Apres Bar, Summerrow
in Birmingham, England Controlled Releases.
Too many books! I think some of mine got picked up...should do wonders for my releasing & catching figures :)
---
Picked up at the Unconvention, another one I've heard so much about and never read before.
---
I finished this earlier today and have racked my brains on how to review it. In the end, I have to say I agreed with BookGroupMan - I just didn't get it. By the time I got to the end of the third story (which, of the three, I had been enjoying the most) I could barely remember the other two, let alone how they linked and I just ended up utterly confused and I'm glad to see I wasn't alone in this. Maybe someday, someone will explain how clever it was.
---
Released 15 yrs ago (9/24/2004 UTC) at
WILD RELEASE NOTES:
RELEASE NOTES:

Going into the Col Mustard crime bookbox
---
picked out of the bookbox, thanks!
---
As with the other two, I wasn't quite sure what to make of this book but I did enjoy parts of his writing style. The book seems to run along general themes rather than a traditional detective story type plot, although each of the novellas has a 'story' of its own. All have a common theme of identity and of people 'disappearing' into the city and taking on new identities - this does make it confusing, particularly in the third of the triology where you're not at all sure who's who anymore! Worth giving it a go, though, I thought.

Releasing shortly as part of the 52 towns in 52 weeks challenge.
---
RELEASE NOTES:

Don't know the name of the hotel but does nice pub lunches!
---