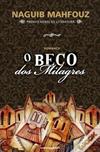 O Beco dos Milagres
2 journalers for this copy...
SINOPSE
A acção de O Beco dos Milagres, um romance de pendor realista, decorre durante a Segunda Guerra Mundial, num beco da grandiosa capital que é, então, o Cairo.

Por este bairro pobre da zona antiga do Cairo, desfilam os protagonistas de pequenas tragédias e aspirações banais imaginados por Mahfouz: a paixão do doce barbeiro Alhilu pela ambiciosa Hamida; a mãe de Hamida, casamenteira, que arranja um bom noivo a Senia Afifi, senhoria de boa parte dos moradores do beco; as fantasias do cinquentão Alwan; a homossexualidade de Quercha, o dono do café; a sabedoria, a religiosidade e o eterno optimismo de Radwan Husseini, entre outros.

CRÍTICAS DE IMPRENSA
"Mahfouz é comparável a Hugo, Dickens, Galsworthy, Mann, Zola ou Jules Romain." - LONDON REVIEW OF BOOKS

"Naguib Mahfouz é o melhor escritor numa das línguas mais faladas no mundo e um narrador de primeira ordem em qualquer língua." - VANITY FAIR

"Os becos, as casas, os palácios, as mesquitas e os seus habitantes são evocados tão vivamente pelo trabalho de Mahfouz como as ruas de o Londres eram por Dickens." - NEWSWEEK

"Um forte sentido de metáfora atravessa a ficção de Mahfouz, o que é característico de um artista literário que utiliza a ficção para falar directa e inequivocamente do seu país. O seu trabalho está cheio de amor pelo Egipto e as suas gentes, mas nunca deixa de ser honesto e nunca recorre ao sentimentalismo." - WASHINGTON POST

"O trabalho de Mahfouz é refrescante, subtil, cativante e lírico. O Prémio Nobel veio sublinhar o alcance universal da sua ficção." - LOS ANGELES TIMES

"Mahfouz conseguiu dar vida à essência da caótica cidade do Cairo" - THE ECONOMIST
---
Muito obrigado ao joaquimponte por este agradabilíssimo RABCK. Espero ler este livro em breve e depois venho cá dar a minha opinião.
---