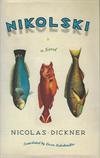 Nikolski [in English]
3 journalers for this copy...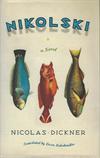 First published (under the title
Nikolski
) in French by Éditions Alto, Quebec City, Quebec, in 2005 and in English by Alfred A. Knopf, Canada in 2008. Translated by Lazer Lederhendler. UK, London : Portobello Books 2009. Hardback, 295 pages.
Illustrations from
The Narrative of the Perry Expedition of Japan
(1858). Design: CS Richardson, based on an original by Antoine Tanguay.
• French edition:
2005 Prix du Gouverneur général : romans et nouvelles de langue française (finaliste/shortlist)
2006 Prix des libraires du Quebec
2006 Prix littéraire des collégiens
2006 Prix Anne-Hébert
2006 Prix Printemps des Lecteurs—Lavinal (France)
2006 Grand Prix littéraire Archambault (finaliste/shortlist)
2006 the Prix du public du Salon du livre de Montréal/La Presse (finaliste/shorlist)
2006 Prix France-Quebec Jean-Hamelin, avant Prix France-Québec (candidat/longlist)
• English translation:
2008 Governor General's Award for French-to-English translation
2010 Canada Reads
• Back cover:
The Nikolski compass was the only tangible proof of my father's existence, and had been the pole star of my childhood, the glorious instrument with which I'd crossed a thousand imaginary oceans ...
'Stylish, offbeat, poignant and perceptive'
DAVID MITCHELL
• Front flap:
BORN THOUSANDS OF MILES
apart, three people grow up feeling curiously at sea. One by one, they cut themselves adrift from their birthplaces and set out to discover what — or who — will anchor their lives, each of them clinging on to the driftwood of family folklore: a bundle of maps that track an absent father; a series of legends about seafaring ancestors and a long-lost uncle; a collection of faded postcards from far-flung locations.
Unaware of the connection between them, Noah, Joyce and an unnamed narrator will each settle for a time in Montreal, their paths almost crisscrossing, and their stories weaving in and out of other tales: about such things as a pair of fearsome female pirates, a team of garbage-obsessed archaeologists, several enormous tuna, a land-sick sailor, a mysterious book without a cover, and a plastic compass whose needle obstinately points just-off north, to the remote Alaskan village of Nikolski ...
Intricately plotted and shimmering with originality,
Nikolski
charts the strange courses of migration that eventually lead to home.
• Back flap:
NICOLAS DICKNER
won two literary awards for his first published work, the short story collection
L'encyclopédie du petit cercle
. Born in Rivière-du-Loup, Quebec, he travelled extensively in Europe and Latin America before settling in Montreal.
Nikolski
is his first novel.
LAZER LEDERHENDLER
is a three-time finalist for the Governor General's Literary Award, most recently for his translation of
The Immaculate Conception
by Gaetan Soucy, which was also shortlisted for the Scotiabank Giller Prize and won the French-to-English Translation Prize from the Quebec Writers' Federation. He lives in Montreal.
•
Winner of the Prix des libraries du Quebec, the Prix litteraire des collegiens and the Prix Anne-Hébert in Quebec and the Prix Printemps des lecteurs—Lavinal in France
Shortlisted for the Governor General's Literary Award, the Grand Prix litteraire Archambault; the Prix du public du Salon du livre de Montréal/
La Presse
, and longlisted for the Prix France-Québec Jean-Hamelin
•
'Breathtakingly original, intellectually sophisticated and emotionally affecting.'
Globe and Mail
'This book is the discovery of the year ... stunning.'
L'actualité
Nicolas Dickner
at Wikipedia
Nicolas Dickner discusses his novel, Nikolski
at YouTube
Lazer Lederhendler
at Wikipedia
Nikolski
at Wikipedia
Nikolski
at CBC Books
---

Phew, finally finished. I read this book a long, long time. At first, I just couldn't get a hold of the story but, eventually, it just grew on me. I read it in bits and pieces and don't really know why. There were so long pauses between my reading that I had forgotten what had taken place earlier in the story. But I never felt the urge to start the book all over again. Why? Simply because I enjoyed the text so much and found the storyline so interesting I just wanted to move ahead.
Because of the way I was reading, I lost the big picture but saw the details pretty clearly. And I so loved the parts with the only first-person narrator, the nameless bookseller. It was him, btw, who stated, "Books have to travel." And every BookCrosser in the world agrees.
For Nikolski, Nicolas Dickener has won several awards. And he really earned every single one of them. And Lazer Lederhendler was absolutely justly awarded the Governor General's Award for the translation. I've often said that French is a language that doesn't translate well into English. Lederhandler proves me wrong. The translation is fantastic. And so beautiful.
Nikolski may well be one of the best books I've read this year. It is great, truly.


---


Nikolski was one of the books in Palkintokaappi (trophy cabinet VBB) last fall. It was picked up by Annimanni. So, that's where it's travelling next.

---

Released 3 yrs ago (4/13/2017 UTC) at Tampere, Pirkanmaa / Birkaland Finland
CONTROLLED RELEASE NOTES:
I'm sorry for the delayed delivery. But better late than never, eh? Nikolski is now in the mailbox but won't leave there until Tuesday morning.
Thanks for your patience, Annimanni. I hope you'll enjoy the book.
---

The book arrived safely last week and has been sitting on my kitchen table waiting to be journaled. Thanks very much for sending it to me, Tarna! And no need to apologize for taking your time with it. I'm in a reading slump myself at the moment and everything seems to take ages. I'm hoping to climb out of the slump in the summer at the latest...
---

I wish I had read this at a different time. I started the book early last week and very much enjoyed the first part, the language, the originality, the atmosphere, the setting. But when the corona crisis started for real, I lost my ability to concentrate and just waded through the rest in bits and pieces, not being able to really enjoy what I was reading. It wasn't the book's fault, I recognise its merits, but I think this particular place in time requires escapism... My situation isn't helped by the fact that I'm buried under a heavy workload, badly behind with a big project, and very very stressed about it, too. But that's not Nikolski's fault, either :)
---

Terveisiä lauseen mitalla! You're choice from the Finnish 1st Sentence VBB vol. XII. Enjoy!
---
Journal Entry
7
by
LiskoMiettinen
at
Jyväskylä, Keski-Suomi / Mellersta Finland Finland on Thursday, April 09, 2020
Thank you Annimanni.

I can't read more than one book with this language. I have to start one another book soon so I think this have to wait when I got time to read it. But I look forward to it. This sounds so interesting to me. :)
---