The Care and Feeding of Ravenously Hungry Girls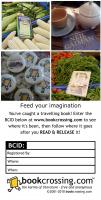 Registered by

bookczuk

of
Charleston
,
South Carolina
USA on 10/14/2018
2 journalers for this copy...

Journal Entry
1
by

bookczuk

from
Charleston
,
South Carolina
USA on Sunday, October 14, 2018
I received a message on GoodReads from the publishing company, offering me an ARC of this book. It started out saying "I noticed that you enjoyed The Mothers by Brit Bennett, so I know you'll LOVE The Care and Feeding of Ravenously Hungry Girls by Anissa Gray (out 2/19)." Okay... I'm willing to give a book a try, but the ironic thing is I've never read anything by Brit Bennett. But, I don't count an enthusiastic PR person's mistake against the author, so agreed to read the ARC.

Families are complex, and the family in this particular case has more than its fair share of difficulties. Eldest sister Althea, and her husband are arrested for fraud. Like a stone thrown into the water, the repercussions ripple out for their daughters, Althea's siblings, and the community. Each individual caught in a ring has their own particular burden or view as well., often overlapping with that of another family member. It made for an interesting read, well plotted, with good characterizations. It was an intense read, and a commentary on so many aspects of our world today.

Thank you to the publisher for sending me this copy. I'll have to go read the book this one was compared to, to see if that holds true.

---

Journal Entry
2
by

bookczuk

at
Second State Coffee (formerly Black Tap Coffee) - 70½ Beaufain St in Charleston, South Carolina USA on Friday, December 07, 2018
Released 3 mos ago (12/7/2018 UTC) at Second State Coffee (formerly Black Tap Coffee) - 70½ Beaufain St in Charleston, South Carolina USA
WILD RELEASE NOTES:
To the finder of this book:

Welcome to BookCrossing, a unique community of book lovers, sharing their libraries with the world. This book is now yours to read, enjoy, keep or pass on to another reader. The BookCrossing ID, which you entered in the "Enter a BCID" box on the website, is unique to this copy of this book. If you make a journal entry (either anonymously, or as a BookCrossing member) all previous readers of this actual book will be notified by email, and can follow the book as it travels. BookCrossing is free to join, completely confidential (you are known only by your screen name and no one is ever given your e-mail address) and a heck of a lot of fun. Be on the lookout for other books left in the "Wild"!

If you find yourself liking BookCrossing, there may be local BookCrossers who meet regularly in your area. Come join us! I've been a BookCrosser since 2003 and have found books left by others, discovered new authors to read, watched my books travel all over the world, and discovered a delightful group of readers online through BookCrossing.

---

A BookCrossing friend is interested in this book, so I went back to Second State Coffee and retrieved it off the shelf. Luckily it was still there.
---

Sending off in the mail with a few tag-alongs. Yay for BC Support buddies!
---

Yay to BC Support buddies who go back to catch their own release because I sent a PM saying I really wanted to read this one!
Thanks so much bookczuk!
I'll be sure to pass this on in as generous a fashion as the journey you set it going on!
---