Shots in the Dark (Mack's Bar Mysteries)
Registered by
JennyC1230
of
Woodstock
,
Georgia
USA on 8/18/2016

This Book is Currently in the Wild!
3 journalers for this copy...

Book #4 in the Mack's Bar Mystery series:

For Mack and her barfly allies, solving homicides calls for equal parts instinct and wit. To strain out a crafty criminal, the mixture has got to be absolutely perfect . . .

It's a week before Christmas, but Milwaukee bar owner Mackenzie "Mack" Dalton is hardly in good spirits. Chilled to the core by the murder of bouncer Gary Gunderson, Mack is determined to use her extra perceptive senses to identify the gunman responsible. Did Gary's patchy past brew up some fatal trouble, or could his death be linked to a series of cryptic letters concocted by Mack's anonymous adversary? With a second case to crack, innocent lives at stake, and a media frenzy in their midst, Mack and her barstool detectives have little time to mull over the grim details--especially when clues lead dangerously close to home . . .
---

Journal Entry
2
by
JennyC1230
at
Woodstock, Georgia USA on Monday, August 22, 2016
My Review: I liked this book, but it wasn't as good as the other ones in this series, I wanted to have a bit more about the characters lives, this one focused a lot on the mysteries. I don't want to spoil anything, but they still don't find out who is sending Mack letters with clues to solve, so her friends don't get killed. I'm hoping this story line is resolved in the next book (due out August 2017). The other thing the Capone mystery group is working on is a solved murder case, only the guy convicted claims he's innocent, his sister asks the team for help.

Sending to DVG, since I thought she might like to read this book. We both enjoy the series.
---

Journal Entry
3
by
JennyC1230
at
RABCK, -- By post or by hand/ in person -- USA on Friday, October 14, 2016
Released 4 yrs ago (10/14/2016 UTC) at RABCK, -- By post or by hand/ in person -- USA
CONTROLLED RELEASE NOTES:
If you have found this book, welcome to Bookcrossing and thank you for taking the time to let us know about its journey. Feel free to enjoy the book and pass it along to a friend, neighbor, family member or co-worker, or simply leave it somewhere for another lucky reader to enjoy as you did! This book isn't your type of read? No problem, don't feel obliged to read it, just be kind enough to help it on its journey. If you join, please use my name as your referring member: JennyC1230.

Sending to DVG. I think DVG might like this one. Enjoy!
---

Doing the happy dance! I was anxiously awaiting the release of this book and kept checking the bookstore and not seeing it. Thank you so much JennyC1230 for introducing me to this series and sending this installment to me! I am also happily surprised to discover it had some traveling companions. They look like good reads too! =)
---

I really do like the main character, Mack, in this series. She is smart and witty. I am enjoying this series. I also feel that the mystery involving the letters should have been cleared up in this one. Why drag it into the next book? We already like the series, time to solve this particular mystery and have the storyline move on. I will be looking forward to the next installment.
---

Released 4 yrs ago (11/2/2016 UTC) at Surprise, A RABCK -- Controlled Releases
CONTROLLED RELEASE NOTES:
I continued this book's journey by sending it to eponine38. I have already sent the first two installments of this fun series to eponine38, so sending this one seemed right. I hope you enjoy!
Happy Reading and Happy BookCrossing!
---

Thank you so much, dvg! I feel a bit guilty for not having read the other two yet, but certainly appreciate having this one as well. You are so generous and I really appreciate it!

I usually try to save my cozy mystery reading for when I'm feeling down, so given this week's events I do think I'll be starting the first in the series quite soon!

Thanks again!
---

Well, I didn't start the book quite as soon as I expected, but it was worth the wait. There's not too much to add to the earlier reviews, but I have loved this series from the start, especially learning about synesthesia experienced by our sleuth and bar owner, Mack.

I do agree with the other readers that it would be better not to be left hanging at the end of this book. Cozy mysteries are usually self-contained, and it's a little bit annoying that this one isn't (nor was the previous one, for that matter). Still an enjoyable read for those of us who plan to read the rest of the series!
---

Journal Entry
9
by

eponine38

at
Little Free Library, 55 Cottage Ave. in Winthrop, Massachusetts USA on Saturday, August 01, 2020
Released 7 mos ago (8/1/2020 UTC) at Little Free Library, 55 Cottage Ave. in Winthrop, Massachusetts USA
WILD RELEASE NOTES: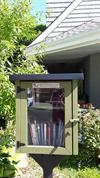 Hope it finds a new reader!
Welcome to BookCrossing!
Please make a journal entry so we know this book has found a new home.You don't need to join BookCrossing and you can remain completely anonymous. However, we encourage you to join so that you can follow this book's future travels. (You'll receive an email anytime someone makes a journal entry). It's fun, free, and confidential. If you decide to join, consider listing eponine38 as referring you.
Take your time reading the book, and after you finish, please make another journal entry to record your thoughts about it. This book is now yours, and you can keep it if you choose, though we would love for you to share it. If you pass it along, please make a release note to let others know where you left it "in the wild", or a journal entry if you gave/sent it to a known person.
I hope you enjoy the book!
---