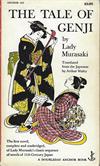 The Tale of Genji
4 journalers for this copy...

"The Tale of Genji, completed at the beginning of the eleventh century by a lady of the Emperor's court, is the greatest work on Japanese literature and a classic that can stand with the great masterpieces of the world."
---

Journal Entry
2
by
rhythmbiscuit
at
Northglenn, Colorado USA on Wednesday, August 24, 2016
I included this book in AlterEgoZoe's Asian bookbox. I hope it finds its reader.
---
I've been aware of this book for decades, and considered reading it many times, but it just seems too daunting. Received it in the Asian bookbox, and am passing along to the next recipient.
---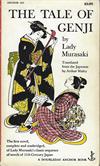 Gratefully claimed from AlterEgoZoe's
Far East/Asian bookbox
.
I'm surprised that I don't already have one of these on my BC shelf: I've definitely had at least one copy in the past...
---

Monday, October 16, 2017: swiped this from the box to send to someone who has this book on her wishlist - not sure if she'll end up with the box or not, so...
Released for Secretariat's
2017 Never Judge a Book By Its Cover Challenge
(week 41: translations).
USPS tracking # 9549 0104 3301 7289 2360 51
ETA 11/06/2017
~ ~ ~ ~ ~
I'm so glad you've found this book!
Please take a moment to make a journal entry and let this book's previous readers know that it's safe with you.
How and where did you find the book? What did you think of it? What are you going to do with it next?
It's now your book, for you to do with as you please: keep it, pass it to a friend, or maybe even leave it where someone else can find it!
If you've ever wondered where your books go after they leave your hands, join BookCrossing and you may find out: you'll be able to follow the further adventures of your books as new readers make journal entries - sometimes from surprisingly far-flung locations.
(Think of it like Where's George for books: a little like geocaching or a treasure hunt - you can follow a registered book's journey every time someone makes a new entry. Some BookCrossers even leave books *in* geocaches!)
BookCrossing: making the whole world a library!
---

A life of virtue on display,

till you lift the covers
and the smell leaks out.
---