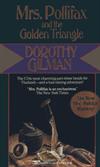 Mrs. Pollifax and the Golden Triangle
Registered by

Annelis

of
Kerava
,
Uusimaa / Nyland
Finland on 7/12/2016
2 journalers for this copy...

Journal Entry
1
by

Annelis

from
Kerava
,
Uusimaa / Nyland
Finland on Tuesday, July 12, 2016
199 pages
Mrs Pollifax and the Golden Triangle was published in 1988

Eighth book of the series. On the very morning Mrs. Pollifax and her husband Cyrus are leaving for Bangkok, the CIA arrives on her doorstep with an urgent request for help. All she's got to do is carry a small object to someone named Ruamsak, and get something from him in exchange. After her arrival, however, she discovers the body of a murdered man and, moments later, watches in horror as Cyrus is kidnapped! Soon Mrs. Pollifax is tramping through the ominous Thai countryside — known for its smugglers and drug warlords — led by a curious called Bonchoo, who may be trying to help find her husband. Or may have other, more sinister plans….

Dorothy Gilman is the author of thirteen Mrs. Pollifax novels, beginning with The Unexpected Mrs. Pollifax and continuing through Mrs. Pollifax, Innocent Tourist. She lives in Westport, Connecticut.
---

Mrs Pollifax visits Thailand and sees many things that tourists don't see. And they are not all pleasant. And all that because of the CIA, pah! The book was pleasant reading anyway even if I don't like the CIA. I like Mrs Pollifax, though.
This is my book #42 in the
Reduce Mount TBR 2018
-challence by Dove-i-libri.
---

I'll take the book to the meet-up at Roasberg.

Happy reading!

---

Picked this up from our Good Friday meet-up. I am still not used to the fact that cafeterias are open on Good Friday as it used to be a day when completely everything was closed. And if we go a bit more back in time, Mom always tells how in her childhood everybody wore black on Good Friday and it was a day when children weren't aloud to play, to go out or to read and they had to speak very quietly. It was indeed a very long Friday (in Finnish Good Friday is called Long Friday).
I haven't read any Mrs Pollifax books, but perhaps I will begin with the first one, The Unexpected Mrs Pollifax, which was also on offer at the meet-up.
---